Moppity cleans-up at Royal Hobart Wine Show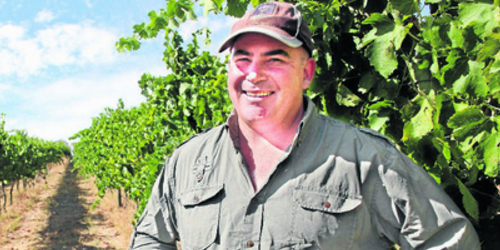 NSW winery Moppity Vineyards has won the Most Successful Exhibitor trophy at the Royal Hobart Wine Show. Before you yawn (do we need to know the results from every wine show?), consider this. The next-smallest winery ever to win this award was De Bortoli (tastings), which is about 300 times the size of Moppity. At least that's the estimate of Moppity owner Jason Brown (pictured).
Moppity (tastings), based in the Hilltops region, has been creaming the wine shows for several years, but this is its biggest giant-slaying act. 'Most successful exhibitor' trophies are determined by totalling points allocated for gold, silver and bronze medals. Said Brown,
"The fact that it was won by exclusively southern NSW wines is particularly exciting for our neck of the woods. Most notably, we entered four 2014 cabernets and won gold for each – the only golds awarded in the class, among strong competition from Margaret River and elsewhere. This would be pretty rare if not unprecedented in a capital city show, I think."
I'm sure he's right.
Not only that, but Brown thinks it could be the first time anyone has won a 'most successful exhibitor' trophy with exclusively NSW wines.
In the past, Moppity has risen to the top with shirazes more often than cabernets, but it's a testament to good viticulture and good winemaking that Moppity is excelling with both varieties. And it's not that success hasn't come to its cabernets before: At this year's NSW Wine Awards, Moppity's Lock & Key Reserve Cabernet 2014 won the trophy for the best young cabernet sauvignon, and Moppity has won the same award before. And did I mention it sells for $27?