'Sherry, A Modern Guide the World's Best Kept Secret' by Talia Baiocchi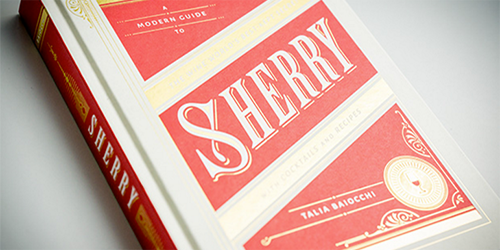 Sherry – Spanish Sherry, that is – has a legion of loyal followers but has been out of fashion for quite a few years. So have all fortified wines. But there is something of a revival going on in wine-bars and savvy restaurants. In New York, the resurgence was kicked off by the sommeliers and the mixologists, aka bartenders.
The cocktail mixers re-discovered some of the fashionable cocktails of the mid-19th Century, such as the Sherry Cobbler and the Sherry Flip, both beloved of author Charles Dickens and some of his characters. Smart wine bars have been pushing manzanilla and fino, sometimes offering tasting flights of sherries.
The interest in sherry has grown from there. Similar rumblings have been happening in this country.
So it's not surprising that an excellent new book on sherry, called simply "Sherry", by Talia Baiocchi, takes a new slant on the whole sherry subject. It focuses on cocktails and food. It gives a range of 43 cocktail recipes involving sherry and tells us about their history, which is often interesting. For example, the Dickens links.
And it gives us a handful of recipes for dishes that go with sherries of various types. This section also includes an excellent explanation of the various types of jamon.
There's also a chapter of winery profiles. And of course, a thorough discussion of the styles, the winemaking, the history, and so on. Excellent photographs and superb book design are the icing on the cake.
Baiocchi is an American whose parents are Spanish and Italian, so she's a good blend for a wine and food writer. I find her work immensely readable. Even entertaining. When she writes about tapas I get the munchies. When she talks about sherry I want to go and pour a glass.
Apparently, she was voted one of the top food and wine talents aged under 30 in 2013, so she can't be more than 32 now. My guess is we'll be reading a lot more from her.
This is the most enjoyable and interesting wine book I've read this year. In short, it gets my vote for the best wine book of 2015.
*"Sherry, A Modern Guide the World's Best Kept Secret, with Cocktails and Recipes", by Talia Baiocchi. Published by Jacqui Small, hardback, 265 pages, $40.