Delegat build large winery in Hawke's Bay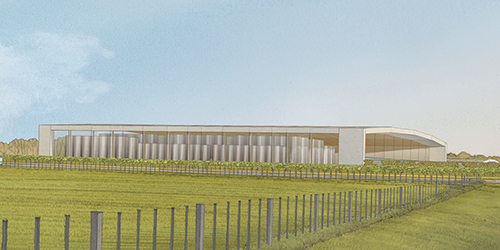 Driving in Hawke's Bay a couple of weeks ago and I came across a very large and attractive structure. Could it be a winery? Yes, it's winemaking on a grand scale by Delegat (tastings).
Planned for completion in time for the 2016 vintage the winery (pictured) will "enable us to meet strong growth in global demand for our Hawke's Bay Sparkling, Pinot Gris and Merlot", says winemaker Michael Ivicevich. Additional areas, including offices, landscaping and vineyard will be completed after harvest.
An article in the NZ Herald claims that the $40 million winery is one of Hawke's Bay's largest construction projects.