Wine industry honours fellows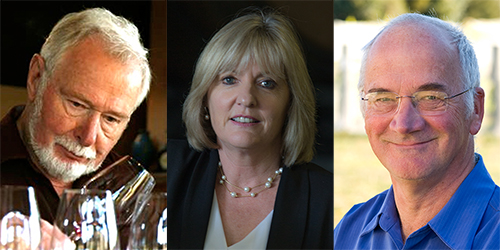 Three wine personalities who have made an outstanding contribution to the wine industry were honoured at the Air NZ Wine Awards dinner.
"The work of individuals like Alan, Kate and Mike is what enables a small industry like ours to punch above our weight on the world stage," said John Clarke, Deputy Chair, New Zealand Winegrowers. He added;
"The New Zealand wine industry is grateful for all of their time and efforts over the years and is delighted to be able to recognise their accomplishments by making them Fellows of New Zealand Winegrowers. As Fellows, they join the ranks of a group of very highly respected and influential individuals who have helped make our industry the success it is today.''
They are (from left to right):
Alan Brady MNZM
Alan Brady was instrumental in the development of Central Otago's wine industry, planting the first vines in Gibbston Valley in 1981. Alan then set up and ran Gibbston Valley Winery (tastings) and Mt Edward Winery (tastings), and now manages the Wild Irishman label (tastings) and is a director of Felton Road Wines (tastings).
As an active member of both national and regional industry boards, Alan has had his efforts recognised with numerous industry honours over the years, including: the New Zealand Order of Merit for services to the wine industry, the Central Otago Winegrowers' Association Outstanding Services Award, the Sir George Fistonich Medal awarded to 'Legends of New Zealand Wine', a Lifetime Achievement Award from the Queenstown Chamber of Commerce, and being inducted into New Zealand Wine Hall of Fame. Said Mr Clarke;
"One of Alan's greatest contributions to the industry has been his willingness to share his time, passion and knowledge with those around him. Alan's pioneering attitude has helped to build and shape an extraordinary part of New Zealand's wine industry, and he can be proud of the legacy that he's had a hand in creating."
Kate Radburnd
Kate Radburnd is the head winemaker, co-owner and Managing Director of Pask Winery (tastings) based in Hawke's Bay, and has had a distinguished career in the wine industry. Kate was a director of the Wine Institute of New Zealand and subsequently, New Zealand Winegrowers for over a decade. She also chaired the Sustainability Committee for five years, worked as wine consultant to Air New Zealand, and held the position of Deputy Chair on the Council of the Eastern Institute of Technology. In 2010, she was awarded the Sir George Fistonich Medal in Recognition of Services to New Zealand Wine. Mr Clarke stated;
"Kate has given a vast amount of her time and energy to New Zealand's wine industry and has earned a huge amount of respect from her peers both in the Hawke's Bay and nationally for her efforts. In addition to her management and board commitments, Kate has also held a senior judge position the Air New Zealand Wine Awards, and is the Chair of Judging at the Royal Easter Show, helping to enhance the quality and reputation of New Zealand wine."
Dr Mike Trought
Mike Trought is a senior scientist with Plant & Food Research and is based at the Marlborough Research Centre. He has been involved in wine research since the early 1980s when he first started work on irrigation, understory and canopy management. Mike was the first New Zealander to be elected to the board of Australian Society of Viticulture and Oenology and was named 'New Zealand Winegrower Personality of the Year' in 2009. Said Mr Clarke;
''Mike is a true asset to New Zealand's wine community, and is considered one of the world's pre-eminent wine scientists, regularly representing New Zealand at international conferences. He has become the go-to expert for many technical aspects of viticulture in New Zealand. He has authored many valuable papers and mentored a number of budding researchers and scientists.''