Paired: Champagne and Sparkling Wines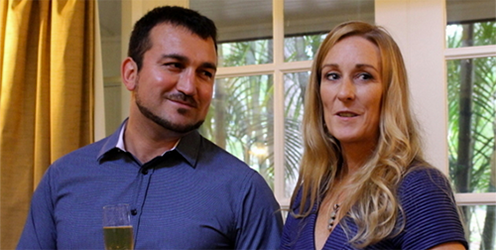 It's amazing but true. Go to any social gathering, party, celebration in Australia at which fizzy wine is served and you'll hear people talking about 'champagne', even if there is no real Champagne on the go.
We don't seem to have made much progress in educating ourselves that Champagne is from the region of the same name in north-eastern France. And nowhere else. Hence, there is a two-page spread devoted to that simple lesson in a new book that has landed on my desk.
"Paired: Champagne and Sparkling Wines" may not have a very catchy title, but it deserves to have a wide audience because it is so accessible. It's a very good, down-to-earth, introductory book on sparkling wines and how to match them with food, published just in time for the Christmas gift market. The authors are a Gold Coast couple: commercial photographer and graphic designer Fran Flynn and Chilean-born sommelier David Stevens-Castro (pictured). The words are by him, the pictures by her.
It's all about matching food to sparkling wines, and the mouth-watering recipes and pictures of the food do much to flesh out the book, which runs to 145 pages. I intend to make their recipes for snapper ceviche, and spicy prawn tapas, at the next available opportunity.
Hardback is $38; e-book is $22 and the combination is $48. http://www.paired-media.com/book