Gibson Australian Old Vine Collection vertical tasting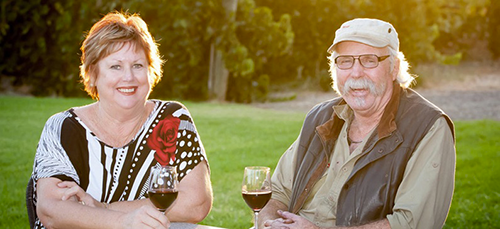 (Image: Anne & Rob Gibson)
Rob Gibson is one of the characters of Barossa Valley wine, and one of several winemakers who add weight to the theory that regular wine consumption yields flourishing moustaches.
There's a memorable picture of Gibson on the cover of a wine book published a few years ago called 'Good Wine, Bad Language, Great Vineyards'. He's standing in a soil pit in between rows of vines, with not a lot of clothes on, just his head and shoulders visible.
In an earlier life, Gibson worked for Penfolds (tastings) as group viticulturist. He left in 1997 to set up Gibson Wines (tastings) and also devote time to his international viticultural consultancy, which takes him to Chile and Argentina.
He is a self-styled 'dirt man', slang for vineyard guy. In fact, his regular Barossa shiraz is now branded "The Dirtman" Shiraz (tastings). It's a miraculous wine for such a youngster – the 2014 ($31 – tasting) is on sale now. How does he manage to get such colour, richness and depth of flavour with such soft tannins?
I recently attended a dinner Gibson put on for his Sydney customers at the Royal Exchange Club, where he presented a vertical tasting of his top-line shiraz, which is called Australian Old Vine Collection. The wines spanned 2000 to 2010 (Barossa Valley – tastings. Eden Valley – tastings) – the latest releases being 2010 Barossa Valley ($120 – tasting) and 2010 Eden Valley ($99 – tasting). They're very impressive – rich as plush, full-bodied, deep and complex wines from very old vines. Gibson used to produce a grenache under the same label but de-listed it as grenache wasn't fashionable at the time. He's thinking about reinstating it.
Gibson's modus operandi is original. During the dinner, he took about 10 guests at a time into a back-room where the Old Vine shirazes were lined up and led a truncated half-hour tasting. The warmth and good humour of the man was infectious, and his close interaction with his customers was warmly received in turn.
Gibson's stepson Adam works with him in the winery, while his son Abel has his own wine company, also in the Barossa, named Ruggabellus (tastings).
Far from standing still, Gibson is focusing on a new range of alternative varietals. Under a secondary label, Gibson's Discovery Road, he sells modestly priced zinfandel, fiano (tasting), mataro grenache blend and tempranillo, and this year will be adding a montepulciano and a nero d'avola.