UK fizz bubbles up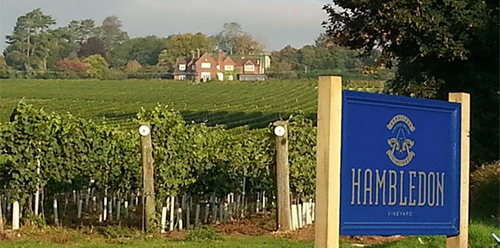 There is a steadily increasing enthusiasm for English sparkling wines emanating from the UK. I've enjoyed several Nyetimber (tasting) bubblies over the years, but the latest bottle to come my way left a serious impression.
Irritated by a constant barrage of emails from PR people, I shot back a rare reply to one – in England. She was crowing the success of Hambledon Vineyard (pictured), on the South Downs in Hampshire, which had just beaten Pol Roger (tastings), Veuve Clicquot (tastings), Taittinger (tastings) and several small grower Champagnes and other English bubblies in a non-vintage sparkling taste-off conducted by a magazine called Noble Rot.
I might have ignored this if the tasters hadn't included Neal Martin, Jamie Goode and Jancis Robinson. They'd blind-tasted eight Champagnes and four English bubblies. Nyetimber came second.
The winning wine, Hambledon Vineyard Classic Cuvée, is from England's oldest commercial vineyard, established in 1952, on chalk soils, and is a 70/20/10 blend of chardonnay, pinot noir and pinot meunier. The clincher was that Hambledon is the 'cradle of cricket'. Can't be all bad.
I shot back a reply, to the effect that I'd love to taste the wine, never expecting a reply, let alone a sample. But one duly arrived. I tasted it blind among a clutch of Australian and imported bubblies including some Champagnes, and it was truly superb (tasting).
The wine's achievement was all the more impressive because it was the first wine released from the 'resurrected' Hambledon vineyard, according to managing director Ian Kellett. I gather it was run-down and a lot of money has recently been spent bringing it up to speed.
There's just one hitch: of course it's not available in Australia. But you might be able to cadge a bottle from Berry Brothers & Rudd, Fareham Wine Cellars or Grape Expectations, all in England. Or go to www.hambledonvineyard.co.uk
The Classic Cuvée sells for £28.50 in the UK.