Pop-Up cellar door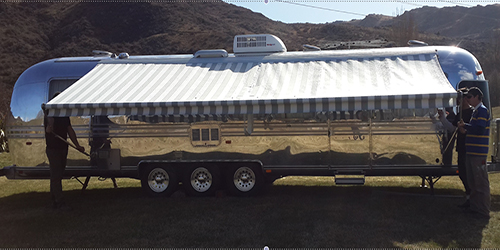 Two Paddocks founder, Sam Neill, has announced that they will open a Pop-Up cellar door for a two-week trial period in January 2016 at the end of Felton Road, Bannockburn (Central Otago) and adjacent to their own 'The Fusilier' vineyard. The cellar door will be operated from a beautifully restored 1982 Airstream caravan (pictured).
Two Paddocks (tastings) will team up with local caterers Flying Trestles to provide tapa style food that can be enjoyed alfresco under a grove of walnut trees. Opening hours are 11-4pm daily from the 5th to the 17th of January.
This is not the first pop-up winery cellar door, although it may be the first in an Airstream. Man O'War (tastings) had a temporary cellar door on wheels until they built a permanent structure in Man O'War Bay. There may have been others.