Peter Barry confesses he's a 'basket case'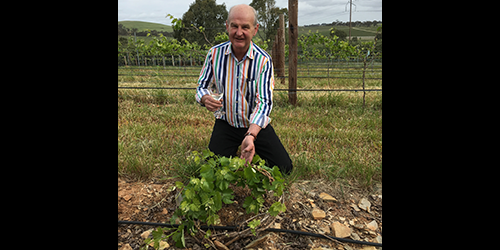 If you've been to Greece, especially the island of Santorini, you've probably encountered assyrtiko. It's a dry white wine that is habitually served with fish and seafood. Peter Barry (pictured) of Jim Barry Wines (tastings) discovered it on Santorini in 2006 and became obsessed with the desire to grow and make assyrtiko in his Clare Valley vineyards.
He imported some vine material, had it quarantined for the requisite two-and-a-half years at the Yalumba nursery, then planted it in his family's Lodge Hill vineyard outside Clare, and at Watervale. There are now 1,200 vines, planted alongside riesling. Barry and his sons Tom and Sam grafted assyrtiko onto sauvignon blanc to save space, which is probably significant.
Their first vintage, if it can be called that, was 2014, when 40 kg of grapes were harvested and a trial batch made. It's a distinctive wine, crisp, delicate and refreshing, seamlessly textured and loaded with promise. This year 700 kg were harvested, and another very promising wine was made. Both have a fine line of natural acidity: no addition needed. Aromas of lemon peel and pear abound.
Unhappily, 700 litres won't go far: there's not enough to market commercially. The good news is they're planting between 7,000 and 9,000 more vines this year.
Peter Barry says the assyrtiko's pH is lower and acidity higher than the riesling from adjacent vines. This confirms that assyrtiko is a good variety for warmer climates.
Most of the vines are trained to a normal trellis, but some are planted as they are on Santorini: as baskets (pictured). Because the island is so windy, the vines are traditionally cultivated in a circular pattern: each year at pruning time the retained canes are wound in a ring so that over the years a basket forms. This helps protect the bunches from the sun and wind and stops the vine being blown away. Barry says the basket is the preferred method, although very labour-intensive. He is going to plant more as baskets, however.
"We'll never have much wine," says Barry. "So we will go to the smart restaurants and ask them what they can do for us if we sell them some assyrtiko. We won't be going to Greek restaurants that never sell any of our wines, and say 'You're a Greek restaurant, we've got a Greek varietal you can sell'. No way!"