Auction raises $141,000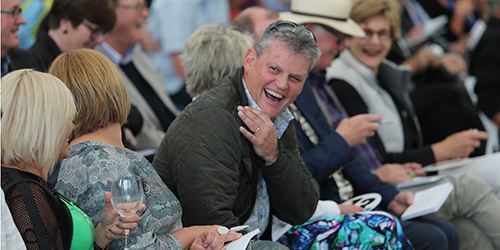 (Napier City Councillor Roy Sye at the auction)
The Hawke's Bay Wine Auction sold 42 donated lots to raise an impressive $141,000 for the Cranford Hospice.
The highest bid went to the painting "Portland" by Martin Poppelwell which fetched $20,000 and earned a round of applause from the crowd.
It was interesting to divide the amount paid for each lot by the number of bottles sold (ignoring lots that included a lunch, helicopter ride etc.). The person(s) who bought $112 x 500ml bottles of Trinity Hill (tastings) Touriga Port for $19.64 got a bargain in my book as did the buyer of 150 bottles of Mission (tastings) 2014 Cabernet Franc which went for a relatively modest $28.67 a bottle.
Small lots predictably earned the most per bottle with a six-bottle lot of Black Barn 2010 Blanc de Blancs (tasting) selling for $2000 or $333 a bottle. At the end of the day it more about making a generous donation to a very worthy charity rather than buying a bargain.