Dry whites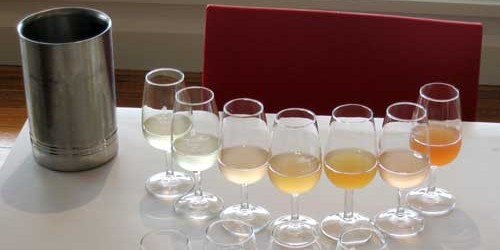 Summer is coming and with it, a thirst for light, crisp, refreshing dry whites. Aussie semillons, sauvignon blancs and blends of the two are just the shot for slaking the thirst and accompanying summery meals which are big on fish and seafood, salads, cold meats and vegetables.
These wines can be cheap and cheerful such as Hay Shed Hill's Pitchfork (tasting), Deep Woods Ivory (tasting), and Longview Red Bucket (tasting) – all 2015 semillon sauvignon blancs under $17. Or Wicks Estate Sauvignon Blanc at $18 (tasting).
Go up a few dollars in price and you get more intensity and a little more complexity of flavour: examples are Larry Cherubino's Pedestal (tasting) and Grosset (tasting) 2015 semillon sauvignon blancs, or Killerby (tasting), Cherubino The Yard (tasting), Moorilla Praxis (tasting), Shaw + Smith (tasting) and The Lane Block 10 (tasting) – all straight sauvignon blancs – plus Sandalford Estate sav-sem (tasting) and Gartelmann Benjamin (tasting) and De Iuliis Wilderness Road (tasting) semillons, all around the $25 mark.
Another step up and you're in company with wines of more serious depth and character – think Howard Vineyard Clover Series (tasting), Sidewood Mappinga (tasting), Larry Cherubino Pemberton (tasting) – all sauvignon blancs around $35 – and Briar Ridge Dairy Hill Semillon (tasting), also $35.
Above these we get into more price-elastic territory, with such icon producers as Mount Mary Triolet (sauvignon blanc, semillon, muscadelle – tasting), and a newcomer from the Yarra, Levantine Hill Albus (sauvignon blanc, chardonnay, viognier, semillon – tasting), Dog Point Section 94 Sauvignon Blanc (tasting) and Lenton Brae 2012 Wilyabrup Semillon Sauvignon Blanc (tasting). These are complex, interest-packed wines that are more meditative than quaffing.
Finally, some magnificent semi-mature Hunter Valley semillons. These are among my favourite dry whites of all. My latest tasting of 115 sems, savs and blends included De Iuliis Aged Release 2009 (tasting), Thomas Wines Braemore Cellar Reserve 2009 (tasting) and Margan Aged Release 2010 (tasting). Great wines – and for what they offer in drinking pleasure, not expensive at $50 each.