A.P. John and pinot noir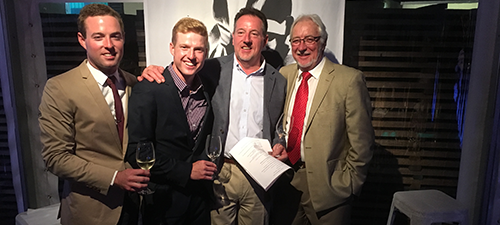 (The John family – L-R: Alex, William, Peter and Stephen)
The most unexpected guest at the recent A.P. John Cooperage 125th anniversary in the Barossa was a young Victorian pinot noir maker, mingling among the legions of old-school Barossa Valley winemakers. Cheek by jowl with Wolf Blass (tastings) and John Glaetzer, the Lindners of Langmeil (tastings), Peter Lehmann's (tastings) Andrew Wigan, Wolf Blass's Chris Hatcher and Penfolds' (tastings) John Bird and Peter Taylor was the tousle-haired, robustly black-bearded Bill Downie, of William Downie Wines (tastings).
A.P. John is a distinguished family business, operated and majority-owned by the John family, whose ancestors arrived in South Australia in the 1840s. Today's boss, Peter John, is a first cousin to winemakers Stephen John of Clare and the late Philip John who worked for Lindemans (tastings) and consulted to Hungerford Hill (tastings). Peter's son Alex is full-time working for the cooperage and younger son William is finishing his oenology degree this year.
The Johns made their name with American oak hogsheads coopered in Tanunda and used famously by Penfolds (Grange and Bin 707 have for many years been 100% A.P. John American oak) and Wolf "No wood, no good" Blass.
So it was a shock to see Downie there and to be served his 2013 Gippsland Pinot Noir (tasting) with dinner. Downie says he uses A.P. John barrels because the cooperage is prepared to suit the (French) oak, the style of barrel and toasting to his needs. Also, he can fill his barrels very soon after the barrels are fired, which he considers vital. It's like roasting coffee, he says: you need to use the barrel immediately it's toasted – like you need to use coffee beans immediately they're roasted. And this can't be done with imported French barrels shipped by sea.