One egg or two?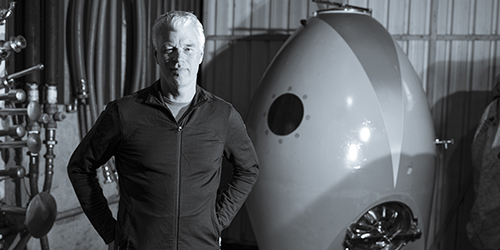 It's not often I visit a winemaker to see his eggs, but that was my main mission when I pulled up at Pask winery in Hawke's Bay. Tony Bish is the well-known, even celebrated, winemaker at Sacred Hill but in 2013 he launched his own label with Sacred Hills' blessing.
He uses Pask's facility to hatch (sorry, can't resist egg analogies) his own 'indie label' which started with the evocative 'Fat 'n' Sassy' Chardonnay (tasting) with an RRP of $21.95 (the name came from Blues musician, Ralph Bennett's tour poster). It was instantly successful even though the first vintage was too sleek and elegant to live up to its label. That will change, says Tony, with the newly released 2014 vintage which is carrying more weight.
Tony intends to specialise in Chardonnay "I love it and New Zealand makes great Chardonnay," which he rightly points out is on the comeback trail. "I want to make affordable 'café wines' that over-deliver quality." He has just released a less expensive Tony Bish Summertime Chardonnay from Gisborne (RRP $17.95) and plans to introduce premium and super-premium alternatives as suitable grapes become available.
But back to eggs. During a trip to South America Tony discovered that the more interesting wineries he visited had concrete egg fermenters. Originally developed by Rhone producer, Michael Chapoutier in 2001, concrete egg fermenters are now popular with adventurous winemakers around the globe.
Returning home, Tony contacted a concrete manufacturer in Hastings and set about trying to build how own egg fermenters. They're technically difficult to make because they need to be cast in two halves which are then cemented together like a giant chocolate Easter egg. They are made from imported cement which must contain no iron or lime.
Why use an egg?
An egg is a perfect circle, which suits the earth's rotation (that sounded a bit airy-fairy to me) and tapers toward the top making it an ideal shape for a convection current (which sort-of makes sense). An egg also offers a lot more surface area exposure – "it really seems to give the wine an incredible texture."
Each egg takes a week to make, retails for $13,000, weighs two tonnes and has a capacity of 1,600 litres. They've made eight so far and Tony has two of them in operation.
I tasted a Chardonnay sample from Tony's egg and it was indeed richer and creamier than a similar sample tasted from an oak barrique, although the latter wine may have been texturally disadvantaged by oak tannins.
I can understand how extra exposure to yeast lees can improve texture and add flavour. It's useful also to have a small volume tank that is inert. It's a fascinating winemaking tool that I shall continue to follow with great interest.