Latest Wine Dogs are off the leash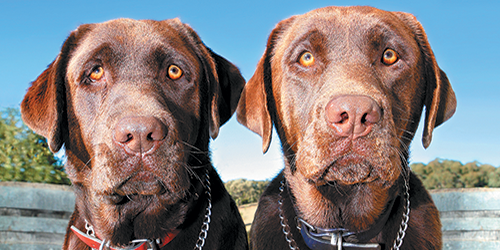 Good news for all wine-loving dog-fanciers: the latest edition of Wine Dogs Australia (Volume 4) is out. This one contains pictures and profiles of pan-lickers at 150 wineries across the country, plus short essays by a veritable roll-call of Aussie wine scribes, including Nick Ryan whose yarn about Winston the border collie wins the gold medal.
Nine writers in all and their offerings do a good job of leavening the cavalcade of doggy pictures. Mike Bennie's saga about his Murray River curly coated retriever sheds light on a most unusual breed. Tory Shepherd's piece about two-legged dogs is a pick-me-up: a heart-warming story about disadvantaged but not disabled dogs.
Most popular breeds are border collies, labs, staffies, golden retrievers, kelpies and jack russells, but there are 52 breeds in all. Observant readers may find an eastern grey kangaroo, a duck, a goat and a pig called Stella among the woofers.
Wine Dogs is the perfect antidote for those who are at risk of taking wine too seriously – which is most of us.
Authors: Craig McGill and Susan Elliott. Publisher: Giant Dog. 204 pages, hardback. RRP $35. www.winedogs.com
The second edition of Wine Dogs New Zealand has also just been published, featuring 100 Kiwi wineries. 156 pages, hardback, AUD$35 or NZ$39.95.
This also contains a number of entertaining essays, one of the best by Bob Campbell, but the gold medal goes to actor/vigneron Sam Neill for his witty and warm-hearted piece about his family's Staffordshire bull terriers.
Both books are in a new, enlarged coffee table format. Great Christmas gifts.