National Recycling Week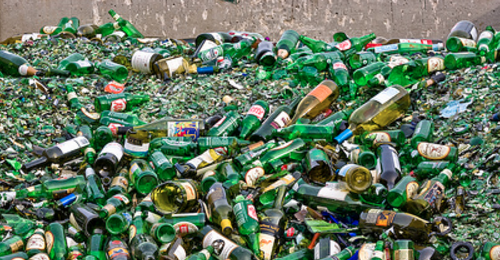 Last week was National Recycling Week – OK, so I'm a week late – but it doesn't matter. We should always be thinking about recycling.
I'm repeating below an item from last year which drew attention to recycling aluminium wine screw-caps.
Last week's publicity for National Recycling Week mentioned that the most common mistake – by far – relating to domestic recycling is that people think plastic shopping bags can be placed in their recycling bin. This is incorrect. It's the same with any squashable plastic, bubble-wrap, indeed all soft plastics. And while we're on plastics, polystyrene is not permissible either.
Here's my piece from 2014.
Change the world – one screwcap at a time!

I love the fact that I can toss hundreds of tiny aluminium screwcaps every fortnight into my recycling wheelie-bin along with paper, cardboard, tin cans and glass bottles, and the sorting technology will separate the caps from everything else. Recycling depots are amazing: they're equipped with fans, air jets, magnets, sieves and vibrating tables to do this job.

Do wine drinkers realise their screwcaps should be going loose into their bins? Not screwed back on the bottle, nor in plastic bags, but loose.

Aluminium is one of the most worthwhile substances to recycle, as recycling saves up to 95% of the energy used in its primary production. And aluminium can be recycled over and over without loss of quality.

Recycling has certainly caught on in Europe, especially Germany, where 85% of closures are now recycled, according to the European Aluminium Foil Association. Italy recycles 65% of its aluminium caps, and the UK 45% – which is also the average across Europe. Encouragingly, even countries with relatively low aluminium closure use such as France and Spain recycle one in three caps.

Aluminium closures are not only used for wine, but spirits, water and olive oil. Japanese sake too.

"Aluminium closures are probably the world's most recycled closures in the wine and spirits sector," EAFA's executive director Stefan Glimm said.

He said the value of recovered aluminium makes it economically feasible to recover not only the caps, but the collar part of the closure, which is separated from the glass after the bottles have been broken for glass recycling.

Do it!