Rootstock Sydney 2015
Rootstock Sydney is on again – for the third successive year – on November 28-29 at Carriageworks. The theme is artisan and sustainable foods, wines and other drinks. Think organic, biodynamic, 'natural', and generally alternative.
At least 40 Australian and 12 New Zealand producers will be pouring their wines, plus 13 from France, also several from Italy, and representatives from Austria, Spain, South Africa, Georgia, and the USA. Distilled products such as gin are included.
Concurrent with the wine are the food markets (Saturday 1-9pm, Sunday 10am-5pm), which take place in six pavilions, showcasing cheeses, coffees, meats, honey, olives, milk, fish, flour and tea, and among the exciting new additions this year is an Australian indigenous foods pavilion. A bars pavilion will have sake, beer and soft drinks bars, and (sharp intake of breath) an 'orange wine' bar.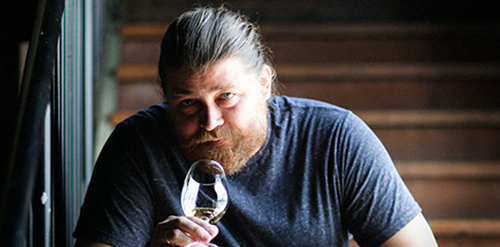 There's a packed program of 45-minute talks each day, and you can buy tickets online for the talks and for the event itself.
Full-day tasting ticket is $90; four-and-a-half-hour session tickets are $55, and talks are $20 or $25. Among the most interesting talks will be Bruce Pascoe on Aboriginal agriculture (cost includes a copy of his book Dark Emu); Richard Leplastrier on sustainable architecture, and John Wurdeman (pictured) of Pheasant's Tears on the Georgian wine tradition. Fascinating – at least Pascoe and Wurdeman will be: I can speak from personal experience with both.