Nick O'Leary wins NSW Wine of the Year for the second time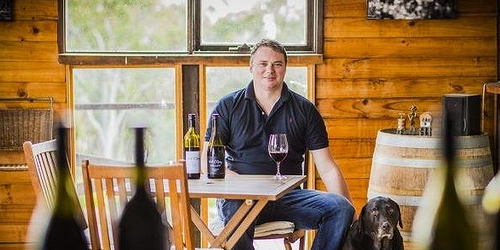 Canberra district winemaker Nick O'Leary (pictured) wasn't planning to attend the NSW Wine Awards presentation in Sydney. His wife was travelling overseas on government business and he was charged with looking after their two young children. "But the organisers rang two or three times to make sure I was coming," says O'Leary. "So I knew I'd won something, but I certainly didn't know I'd won the NSW Wine of the Year" – until it was announced. "It was a huge surprise." No-one had won NSW Wine Of The Year twice before, in the 19 years of the awards – let alone back-to-back wins.
Last year, his 2013 vintage 'reserve' shiraz, Bolaro, won the trophy. This year it was the regular 2014 Nick O'Leary Shiraz ($30). No Bolaro was bottled in 2014 because the vintage was so small, thanks to frost. He started out with 1400 dozen, and it's already largely sold. "We sold a lot of wine on the back of the trophy."
How does he account for such a small boutique winemaker winning this award twice? After all, there were 872 wines competing, entered by 137 wineries.
"Well, you need a good wine to start with, and you need a bit of luck," he offers modestly.
O'Leary's in-laws looked after the kids while he drove to Sydney for the day. They are Ian and Susie Hendry, who preceded him in the Canberra wine industry, establishing the Affleck vineyard at Bungendore in 1976. O'Leary, who is just 34, leases and makes his wines in their winery, as well as a bit of contract winemaking. He makes wine for Lake George Vineyard (tastings) and takes some of its riesling grapes in return.
There is wine in the O'Leary family: his uncle is David O'Leary of O'Leary Walker (tastings), in the Clare Valley. There's also distinction in the family: his dad is Tony O'Leary, press secretary to John Howard, Tony Abbott and now Malcolm Turnbull.
For such a young man, O'Leary has notched up some triumphs. Last year, the regular Nick O'Leary Shiraz 2013 (tasting) won the Stodart Trophy, for the best young red wine of the Royal Queensland wine show –and two other trophies, including best shiraz. The 2013 Bolaro (tasting) also won gold medals at Royal Queensland and National Wine Show, Canberra.
O'Leary's shiraz grapes come largely from the Fischer vineyard at Murrumbateman, which is just two or three kilometres from Clonakilla (tastings) – "the difference is Fischer is on shale soils and Clonakilla is on granite," says O'Leary. The wine is fermented with 35 per cent whole bunches (including stalks) and is matured in 35 per cent new barrels. And it includes a tiny proportion of viognier. The whole-bunch fermentations and viognier contribute extra complexity and texture, and the relatively high proportion of new oak (for a medium-bodied red wine) doesn't show because the barrels are tight-grained Tronçais oak.
The wine itself is elegant and spicy, medium-full bodied and soft of tannin, with superb balance and great drinkability.
Another wine that especially impressed me at this year's NSW Wine Awards was the Courabyra 805 Late Disgorged Pinot Noir Chardonnay Pinot Meunier 2002 ($65 at cellar door – tasting), a Tumbarumba wine which won the trophy for best sparkling wine.
This is another 'repeat offender': its predecessor the 2001 vintage (tasting) won the same trophy twice – in 2012 and 2013. The wine was made by Peta Baverstock at Hardys (tastings) in McLaren Vale. She is a member of the great Ed Carr's sparkling winemaking team. This professionalism shows in both vintages, but as any winemaker knows, if you don't start with great fruit you cannot make great wine. The grapes all came from Cathy and Brian Gairn's Courabyra vineyard whose address is 805 Courabyra Road, Tumbarumba. This is located 6km north-west of the Tumbarumba township at 730 metres – the altitude of critical importance in growing fine, high-acid sparkling wine grapes.
Great wine always wins through, and the 2001 (which is sold out) also topped the Australian Sparkling Wine Awards and Winewise Small Winemakers' Awards. Unfortunately, there were tiny quantities of both – about 100 dozen – but from 2013 on there are more substantial volumes. But, for lovers of mature sparkling wine, it will be a long time between drinks. After the 2008 (also selling now but nearly gone) will come 2010 and every vintage thereafter. No 2009 was made because it was such a hot summer.
Asked whether the awards had been a help selling her wine, Cathy Gairn says "Absolutely. So many Sydney people coming into the cellar door have heard about it or read about it, and it's really working for us. I wish we had more wine. We get good groups of people along to buy wine, but also good contracts and prices for wineries wanting to buy grapes."
Full results:
http://www.nswwine.com.au/pages/2015-Pier-One-Sydney-Harbour-NSW-Wine-Awards.html
Nick O'Leary wines are wholesaled by Vinous; Sydney retailers include Annandale Cellars, Five Way Cellars and Best Cellars.
Courabyra 805 is available at cellar door: www.courabyrawines.com