Waitaki on Q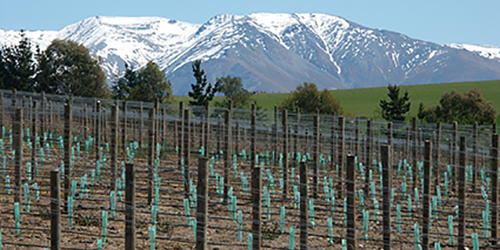 Jules Stephan may have inherited a passion for wine from his great, great grandfather Charles Levet who, with his son, made a living from wine from their 2.8-hectare vineyard on the Kaipara Harbour between 1863 and 1907. Levet was this country's first known commercial winemaker. The Auckland War Memorial Museum still holds Levet's wine press, although to my knowledge it has never been displayed.
Stephan purchased a block of Waitaki Valley (pictured) land in 2002. He describes it as "the opportunity of a lifetime". I call it a "leap of faith" because there was little evidence at that time that the Waitaki would become a viable wine producing area.
Stephan hired a work associate from a past employer, Jules Matthews, as general manager and said "make it happen". Matthews organises vineyard and winemaking activities from her Auckland office, while focusing on selling their wine mainly to restaurants.
It's a challenge to make a profitable business from a 5.5-hectare vineyard, but Matthews claims that they sell their entire production every year and that revenue more than covers production costs.
They make three wines under the label Q Wine: a distinctive though slightly curious 2015 Rosé (tastings), with flavours suggesting crushed strawberries and a hint of wood-smoke; a full-flavoured, dry 2015 Pinot Gris (tastings), which is my favourite of the currently available wines, and their seductively silken Pinot Noir (tastings), although I thought the 2013 vintage (tasting) was a tad too herbal.