Finalists – Australian Women In Wine Awards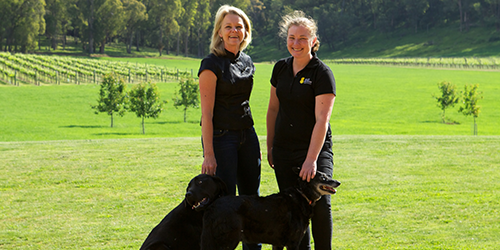 Image: Eleana Anderson (left) & Jo Marsh
Two winemakers from the diminutive Alpine Valleys region have been named as finalists in the inaugural Australian Women In Wine Awards. Eleana Anderson, of Mayford (tastings), and Jo Marsh, of Billy Button (tastings), say they are thrilled to be recognized but even more thrilled that their Alpine Valleys region has been placed under the spotlight. They are two of just four winemaker finalists.
Both women are based at the top end of the Ovens Valley in the picturesque Bright-Porepunkah area. Both have worked in the past at Bright's principal winery, Boynton's Feathertop (tastings).
Anderson established Mayford in 2007 and is noted for her excellent tempranillo, shiraz and chardonnay. Marsh launched Billy Button Wines in 2014, and in just two vintages has made a big splash with such alternative varieties as vermentino, friulano, verduzzo, sangiovese, barbera and gewurztraminer.
The Fabulous Ladies' Wine Society launched the Australian Women in Wine Awards to acknowledge the work of women in the Australian wine industry, and of industry leaders who champion equality and fairness for all sexes in the workplace. The awards, the first of their kind in Australia, feature four categories.
The other finalists for the winemaker award are Sarah Pidgeon of Wynns Coonawarra Estate (tastings) and Rose Kentish of Ulithorne (tastings) in McLaren Vale.
Finalists for viticulturalist of the year are Liz Riley, Cath Kidman and Irina Santiago-Brown.
Finalists for owner/operator of the year are Sarah Andrew, Joanne Bradbury, Rebecca Duffy and Briony Hoare;
Finalists for the Workplace Champion of Change award are Dianne Laurance, Chris Pfeiffer and Dino Michelini.
The awards will be announced at 7.30pm on November 17, via live streaming, and events are being held in capital cities and in the regions represented by the finalists.
http://womeninwineawards.com.au/finalists-announced-for-australian-women-in-wine-awards/