Bond, Bolly and Angélus
Champagne Bollinger has had a long association with James Bond movies, starting in 1973. It seems that Bond has a weakness for Bollinger RD, although he won't say "no" to a glass of chilled Grand Année.
Champagne Bollinger have stepped up the connection by labelling their 2009 vintage in black and silver with "007" featuring prominently on the label. The "Bollinger Spectre Limited Edition" comes in a metal chill box designed by Carré Basset. Bond and Bolly fans will pay $309 for this collectible wine, which distributor, Negociants NZ, advises is mostly all pre-sold (presumably to retailers). It's due for release on 16th November.
It's not the wine that Bond sips in Spectre. His Bolly of choice is the 2002 RD.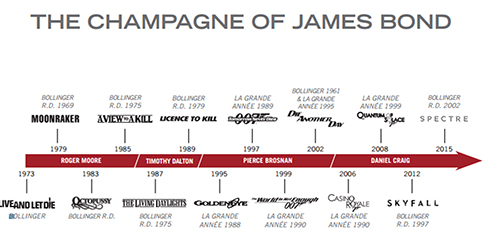 But wait, there's more …
Château Angélus, a Saint-Émilion Premier grand cru classé (A), also gets some Bond action in Spectre. Fans get a glimpse of a bottle of 2005 Château Angélus in an action-packed train scene. It's the wine's second appearance in a Bond film, having appeared in Casino Royale in 2006. You can buy the 2011 vintage of Château Angélus from Glengarry, Auckland, for $399 – about the same price as Bollinger RD 2002.