Royals visit Nelson winery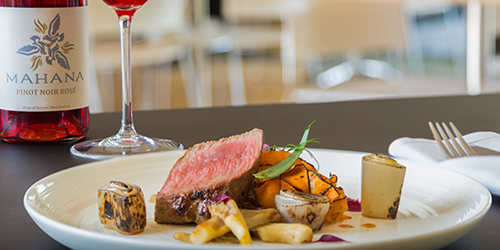 The Prince of Wales and The Duchess of Cornwall (also known as Charles and Camilla) will visit the Mahana winery today (Saturday 7th November) to experience a wide range of local Nelson produce that's been christened "From Source to Serve". The produce will include dishes prepared by local chefs from local produce matched with local wines, craft beers and cider.
The Duchess of Cornwall is President of The United Kingdom Vineyards Association, so a visit to one of New Zealand's premier wine regions is very fitting. Mahana was chosen as the venue not only for its spectacular views across the Nelson region, taking in mountains, sea and grape vines, but also because it is an organic, gravity-fed winery, which is of particular interest to The Prince of Wales.
Mahana Estates Limited is the newly adopted name of the winery formerly called Woollaston Estate (tastings). The company was originally named after a well-known New Zealand painter, Toss Woollaston. Toss's son, Philip, was a founding partner in the company along with majority shareholder Glenn Schaeffer. Glenn, who is an American-born hotelier, published author, art collector and philanthropist, had recently moved to New Zealand to take a more active role the company he built here. At the same time, Philip (who remains in part ownership of the company) was moving towards a well-deserved retirement.
The word Mahana means "warm place" and is the small sub-district of Upper Moutere (Nelson/Tasman Region), which is home to the winery and oldest vineyard of the same name. Mahana was previously used as the winery's premium brand and has been replaced by the brand "Mahana Clays and Gravels".