Affordable Champagne for your Christmas shopping list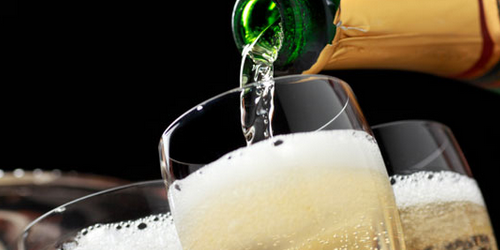 The 'Affordable Champagne' tasting class I conducted at Prince Wine Store in Sydney last week uncovered several bargains. The idea was to select a not-too-expensive Champagne to buy by the case for the upcoming festive season.
The result?
A show of hands at the end of the night revealed a fair degree of agreement.
Robert Moncuit (tastings) NV Blanc de Blancs (normally $70, but $55 at Red Bottle stores and Porter's Chatswood) was rich and complex, loaded with character – a grand cru from the single cru Le Mesnil sur Oger with a touch of oak from partial barrel fermentation, complexity from partial malolactic and a clean finish thanks to modest dosage of 6 grams per litre. Brilliant stuff, and a bargain, especially as this is a small family producer – the pity is that Red Bottle has no plans to re-order this wine when its stock runs out. So jump in quickly!
The only other blanc de blancs in the tasting of 13 bottles, Pierre Péters Cuvée de Réserve NV Blanc de Blancs (tasting), was also very popular (normally $75, special price at The Prince Wine Store is $65, or $60 in a straight six buy).
This is a fresh, fruit-driven wine of brilliant purity with a chalky, faintly herbal character and lovely soft texture. It's another small, family-owned brand, exclusive to The Prince, and using a unique reserve-wine technique which is much like a Spanish sherry solera.
Cuperly Cuvée Prestige Grand Cru Brut NV (tasting) is another Red Bottle/Porter's Chatswood import, also popular at the tasting. It's normally $70, on special at $55. It's a 70/30 pinot noir/chardonnay blend, with one-third reserve wines which have been aged in barrels. Smoky, nutty, alluring bouquet with grand cru concentration and terrific length.
The other popular wines were Pol Roger Brut Réserve (tasting – $58.80 in a six-pack as per the latest Dan Murphy's catalogue; $59.99 from Vintage Cellars online); Lanson Black Label NV (tasting – $40.80 in a six-buy from Dan Murphy's latest catalogue); Piper Heidsieck Brut NV (tasting – $36.90 in Dan Murphy's latest catalogue or $37.50 from Vintage Cellars online, both prices in a six-buy); and Laurent-Perrier Brut LP (tasting – various prices around $54.99 to $59.99 in a range of independent stores including Best Cellars, Chambers Cellars and Vaucluse Cellars. The Prince has $79, or $57 for a case buy.
The cheapest wine was Aldi's own-brand, Veuve Monsigny 1er Cru NV (tasting – one price, $29.99). It was deemed good value in a simple, young, fruity style.
Pommery Brut Royale (tasting), Mumm Cordon Rouge (tasting) and Nicolas Feuillatte Brut Reserve (tasting) disappointed, while Cattier Brut Premier Cru (tasting) was acceptable, and Moet & Chandon Brut Imperial (tasting) rated quite well with me.