Debate rages about 'own-label' wines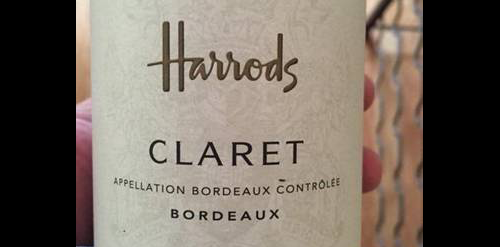 (Image: Harrods 'own' label)
South Australian wine marketer and industry sage Brian Miller has joined the debate about own-label wines, which the Winemakers Federation of Australia and Wolf Blass reckon are ruining the wine industry.
He wrote to his email circle of friends:
This storm in a tasting glass will go nowhere. Wine retailers have always had 'own-labels', a practice and tradition that preceded winery labels. Major retailers now own their own wineries and vineyards. Some winemakers do not. Many wineries do exactly the same thing – buy wine and sell it under their own (range of) labels. As long as the labelling is legal, and not misleading (almost impossible to prove), there is little anyone can do about it …
except whine.
This was in response to ABC Radio RN Breakfast on October 30:
Headed "Wine makers cry foul as Coles and Woolworths become major wine producers in their own right", it said in part:
Farmers have long complained about the dominance of the grocery duopoly Coles and Woolworths and their power to drive down prices at the farm gate. Now wine growers are also crying foul as the two supermarket chains become significant producers of wine in their own right. Home-brand wines produced by Woolworths and Coles make up 18 per cent of the market – and now some big name premium winemakers like Wolf Blass say its time for stricter labelling so consumers know what they are buying.

Woolworths declined to comment, but supplied RN Breakfast with the following statement: 'Woolworths values the strong partnerships we've built with Australian winemakers. We have worked with the Winemakers Federation of Australia and agreed on Wine Buyer and Supplier Principles. Together, we bring more Australian wines to more customers around the country than any other retailer'.
Miller also wrote:
Here lies the irony. Retailers invented wine labels and wine branding. Retailers, shippers, merchants, brokers, wholesalers, gentlemen's clubs and posh department stores. That once was 'the traditional wine business'. Winemakers belatedly stole the idea, and ran with it, and I don't blame them. Retailers are now reclaiming their historic rights and wineries are whining about it.
At the core of this debate is the accusation that Coles, Woolies and other retailers with 'own brands' have no investment in the wine industry, but are opportunists who buy ready-made wine and put their own label on it.
Of course, there are many so-called wine producers that do the same thing: they own no vineyards nor wineries, but act like negociants.
Miller again:
I'm not defending supermarket chains, duopolies, duopsonies, oligopolies or polyamory. Just stating some sobering facts. Always the best place to start. If a winery wants to maintain its identity, integrity, purity and overrated virginity then don't sell any wine in bulk. Or buy any. If it can't afford that luxury then learn to live with it. New winemakers and garagistes are now operating 'virtual wineries', making high quality, interesting and individual wines in rented premises from purchased or contract-grown grapes. Wasn't that how Wolf started?
*Brian Miller has worked in marketing and management for Seppelt, Mitchelton and Richard Hamilton wineries.