Too much of a good thing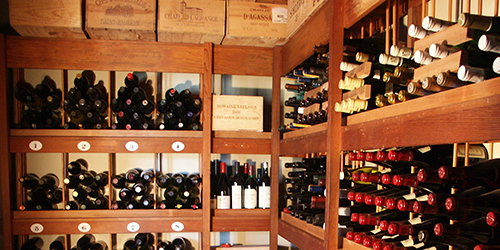 Bell Hill's newsletter has just arrived on my desk. This tiny North Canterbury wine producer makes some of the country's best Pinot Noir and Chardonnay in minute quantities. Their steeply sloping vineyard is planted in pure limestone on what was once a chalk quarry. That factor helps give their wine a distinct fine-boned, mineral-laced character. However, it is the single-minded, almost fanatical love and understanding of Burgundy by owners Marcel Giesen and Sherwyn Veldhuizen that really drives the quality and style of their wines.
I have been buying Bell Hill wines (tastings) almost since their first release in 1999 when the wines were under the second label, Weka Pass Road. My allocation of their latest release is three bottles each of Bell Hill Chardonnay (tastings) and Pinot Noir (tastings) and of Weka Pass Road Pinot Noir (tastings).
I now have quite a collection of Bell Hill wines because they are reserved for special occasions such as wine judges' dinners or to share with (and hopefully impress) a visiting wine scribe.
Very collectible wines like Bell Hill, Dry River (tastings), Neudorf Moutere Chardonnay (tastings), Stonyridge Larose (tastings) and Te Mata Coleraine (tastings) face the real problem that their wine tends to accumulate in cellars, with a significant percentage sliding past the "best by" date.
It took me a few years to get my name on Dry River's "A" list. A-listers are allowed to buy every year (although some wines are allocated) and are de-listed if they don't buy for two years in a row, at least that was how it worked when I was a regular buyer. I regularly bought their Gewurztraminer, Riesling and Pinot Noir and occasionally Pinot Gris, Syrah and Chardonnay. Because their wines were rare and expensive I seldom opened them and suffered from an eventual log-jam. I am no longer on the A-list. Happily Dry River wines tend to age very well and with the help of temperature-controlled storage conditions even the oldest among them continue to give me great pleasure.
Dry River founder, Dr Neil McCallum, wisely featured the drinking window of his wines stored at different temperatures in an effort to discourage people from his holding his wines for too long.
I doubt that many wine collectors took much notice of McCallum's recommendations. Collectors are a funny breed. They seem to derive more pleasure from holding their precious bottles than from drinking them.
We owe great bottles a duty to drink them before they slip into terminal decline.