Automata
Memories fade, but iPhone photos are forever. Fortunately those boogie nights of yore when the Midnight Cowboy and I disgraced ourselves at the Old Clare Hotel, belong to a golden age before FaceTime and Snapchat.
These days, you're more likely to see the revived Old Clare Hotel in Monocle magazine. Singaporean go-getter and head of United Hospitality Group Loh Lik Peng has flipped the gritty, storied boozer and its neighbour the former Carlton United Breweries office, into a swank 62 room boutique hotel, with a rooftop pool and bar.
Some things have changed, some have stayed the same. The posters promoting Split Enz and Dragon gigs circa 1977 are still pasted on the walls, in what is now the hotel lobby. And Reschs remains on tap in the bar (hurrah!). But the grungy velour couches have been replaced with a smart Elan Construct fit-out and the equally grungy uni students of my day are now a critically endangered species of customer.
Mr Peng has installed three restaurants in the development. Two of them – Automata and Silvereye – are open for business. So the Midnight Cowboy and I are back tonight, weaving along Kensington Street, off George Street, Broadway, to see what they've done to memory lane.
Automata is a retro- industrial space on two levels. Chef Clayton Wells (ex-Momofuku) sends out category-defying food from an open kitchen, while his diners stare at a cool Matt Darwon-designed room that's all smooth blondwood and strange vintage steampunk machinery re-fashioned into bespoke chandeliers and downlights.
As a prelude to the set menu ($88) we're chilling up at the bar, nibbling Serrano ham ($16) fried green olives ($10) and Nardin anchovies with house-churned cultured butter ($18). I'm all over a rare Palo Cortado by the glass, to chase the nutty ham.
"Not so fast gringo" the Midnight Cowboy drawls, just as I'm waxing nostalgic about where the good times have gone. He's looking more weather-beaten now, from years of bareback rodeos and riding off into the sunset. The Cuban heels are worn down but the poncho stills spangles. "I don't wanna blow sand into your merlot or whatever that is you're drinking, but the Old Clare's still got Reschs on tap". "I'm drinking sherry you infidel" I respond.
Both of us stare sceptically at a menu item "fish-skin, yuzo kosho". Could this be something the Yakuza traditionally leave on your doorstep as a warning? Turns out it's a deliciously salty, crunchy piece of grilled salmon skin, wearing a few nipple-shaped dots of a creamy yuzukosho-based emulsion. Next, two Kiwi storm clams, with a chewy meatiness that makes me remember I have teeth. These little suckers have a briny, iodine hit, which is cleverly modulated by splodges of umami-rich dashi cream. Two pretty special starters.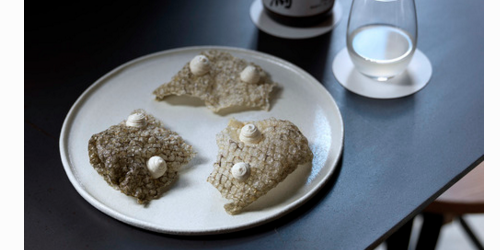 To follow, a piece of smoked eel on another creamy emulsion incorporating malt vinegar, and dressed with crisp fried leek, and small wedges of black garlic. Remarkably balanced, a bit try-hard, but easy to eat. Then, a delicate steamed fillet of Hapuka wrapped in a sheet of intensely oceanic laver (seaweed), mounted on gently smoked John Dory roe. Sensational.
The Midnight Cowboy rattles my brain cells about the time he set me up on a blind date at the pub with an exotic dancer from Brisbane. Charity had stepped off the Greyhound a few days before, with only trouble in mind. This unsubdued daughter of Kali laid waste to my life for three years. "You were always a barn of a target for bad women" he guffaws tactfully. "Thanks for the memories" I reply, more out of sadness than anger.
For our next courses the chef plays with some traditional tropes, with interesting, occasionally variable results. Slow roasted fillets of quail with burnt apple and caper are pink, tender and gamey and the little bird is your reward for piercing its 'feathers ' of braised but painfully bitter witlof; inside skirt steak (a juicy, flavourful cut which requires and gets careful cooking) is garlanded with morels, shiitake and wood ear mushroom and finished with a spoonful of brown butter and tamari sauce. Its exciting 'shroomy umami-ness is off the scale.
There are many kinds of conservative diner and the Midnight Cowboy is all of them. He's confused by our dessert: a pumpkin seed sorbet with bitters, freeze-dried meringue and mandarin. "Hombre, where's the chocolate sauce?". I don't think he means mole.
Yes, some diners will have their expectations challenged by Automata. There's plenty that's daring and mostly delicious – from the menu which is rarely the same twice, to a smart wine list of small, under-the radar French and Australian producers, curated by staff wine wonks Tim Watkins and Abby Meinke.
For other diners, although there are a few single table options, the communal dining tables will be different sort of challenge. If you have friends as tactful as the Midnight Cowboy, there are risks attached.
No doubt many will see Automata as part of a game-changing trend in Sydney, first brought to us by the likes of Momofuku Seibo, Sixpenny and Ester.
Me? I'm just wondering if Charity still drinks Reschs.
Automata
Address: 5 Kensington St, Chippendale
Phone: (02) 8277 8555
Web: www.automata.com.au
Open: Wed-Sat 6pm-late; Sun 12pm-3pm
Price: Bar food $ 8 – $18; Fixed price menu $85
Rating: 15 /20
How good was the food? 4 /5
What was the service like? 4/5
Did the atmosphere work? 3.5/5
Is there an X Factor about this place? 3.5/5