Top 2014 Central Otago Pinot Noir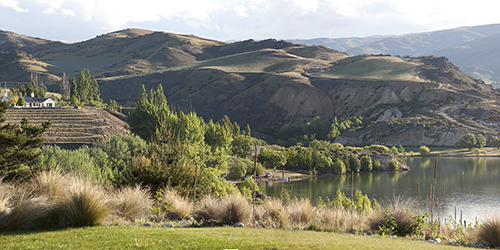 With many new released 2014 Central Otago Pinot Noir labels now appearing on wine store shelves, I thought it would be timely to give a provisional list of some of my favourite wines. I say "provisional" because I have probably tasted less than half of the final quota. I'm not sure why so many producers are holding back on releasing wines from this precocious vintage, perhaps they are simply waiting for earlier vintages to sell out, an exercise in logic if not in promoting the most ideal drinking window.
I've reviewed a number of 2014 vintage reports for Central Otago and have to say that there seems to be a reasonably wide spread of opinion on growing conditions, which may suggest variable conditions from sub-region to sub-region. It's dangerous to generalise, but I have found the 2014 wines to be more charming, softer and more delicate than the far more structured 2013 Pinot Noir. Their accessibility is almost a relief after tasting the often brooding and more intense wines from the earlier vintage. I would tend to drink the more recent vintage before the softer wines from 2014 … but of course there are exceptions.
My five top wines are led by the seductively fleshy and intense Gibbston Valley 2014 School House Pinot Noir from Bendigo, a region which seems to have thrived in 2014. I have previously reviewed this wine (tasting).
Next is the more scented and savoury Felton Road 2014 Calvert (tasting), a wine that consistently rates at the head of the field like its more famous stablemate, the complex, silken and scented Felton Road 2014 Block 3 Pinot Noir (tasting), a wine that will inevitably grow with bottle age despite being dangerously accessible now.
Another Gibbston Valley wine makes fourth place, it's the dense and delicious product of 31 year-old vines, Gibbston Valley 2014 Le Maitre Pinot Noir (tasting). In fifth slot is the reassuringly expensive Rockburn 2014 Eleven Barrels Pinot Noir (tasting) – normally Twelve Barrels Pinot Noir – a sumptuous selection of the very best wines.