Te Mata verticals – Viognier and Syrah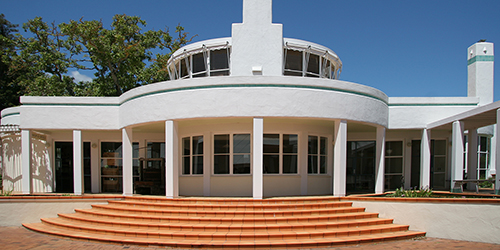 A vertical tasting of a few recent vintages of Te Mata Zara Viognier (2009, 09, 10, 13 & 14), Te Mata Bullnose Syrah (2008, 10, 13, & 14) and Te Mata Estate Syrah (2009, 10 & 14) offered a chance to see how each label has developed, evolved and responded to differing vintage conditions.
I've heard a number of winemakers complain about the declining interest in Viognier in recent years with some, including Te Mata (pictured), reducing their acreage of the variety. That's not entirely supported by the 2014 Vineyard Survey, which shows the area of Viognier only dropping slightly from 187 ha in 2014 to 182 ha in 2017.
In my view, the variety struggles to get fully ripe in all but exceptional vintages and vineyards. Wine drinkers only have to taste a couple of lean, green wines before deciding that Chardonnay might be a better option.
Te Mata Zara Viognier has been a high performer. It began life as Te Mata Woodthorpe in 1998 and became Zara in 2008 (2007 was the last vintage for Woodthorpe Viognier). Since 1998, only one vintage has not been made – 2012. The wine is hand-picked and whole-bunch pressed before being fermented and matured in older French oak barrels. In 2013 the wine underwent full malolactic for the first time and used a small percentage of new oak for the first time.
The wines, which are sealed with a Diam closure, had all improved with a little bottle age. Even the 2008 was pleasingly fresh with good fruit flavour. I very much liked the previously untasted 2013 vintage for its rich and creamy texture and good mix of fruit with winemaking artefact, but narrowly preferred the 2014 for its energy and purity.
Bullnose Syrah first appeared in 1992 and has been made every year apart from 2012. Sealed with a Diam closure, it has always been a good example of an elegant and sometimes slightly edgy Syrah style. It unusually includes a little Grenache in the blend, which winemaker Peter Cowley believes adds a little rustic complexity. It does not include Viognier.
Once again all wines had responded well to bottle age. My preferred wines were 2013 for its richness, concentration and ripeness – it's a real crowd-pleaser; and the 2014, a more edgier style with attractive violets, pepper and spice.
Te Mata Estate Syrah is typically co-fermented with a small percentage of Viognier to give the wine a more pronounced aroma and a silkier texture. The wine was first made in 2002 and has been produced in every year. It is sealed with a screwcap.
It's a lighter and more supple style than Bullnose, offering good value at an RRP of around $22 (Bullnose is $49). My preferred wine from the trio of vintages on offer was 2014, a bright, energetic red with fresh spice and pepper flavours. It offers exceptional value.