Madam Woo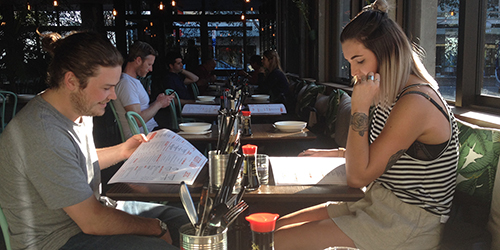 Five things prompted me to try out this new Takapuna restaurant. Metro magazine scored it a dismal one spoon ("we'd eat here if we had to") shortly after it opened; Cuisine magazine has just given it a lukewarm 13.5/20; local wine retailer First Glass Wines reacted with shock at the low score in Cuisine magazine because their customers rave about it; the restaurant is owned by chef superstar Josh Emett; and my cat's name is Mr Woo.
First Glass Wines owner, Kingsley Wood, wrote in his newsletter:
And for a local footnote – the Madam Woo restaurant in Takapuna has received a 13.5 rating in the new Cuisine magazine. Seems a bit harsh given the dozens of complimentary comments received from locals who have been there once, twice or numerous times. Its success (busy) must have made the winter pretty tough for other Takapuna eateries.

We have commented previously on the scoring system for restaurants in Cuisine – there are 7 restaurants reviewed in this issue with scores ranging from 13.5/20 to a high of 15/20. Is it a glass half full or half empty with these reviewers. Let's be thankful they are not wine competition judges as we would never get a gold medal awarded.

Do you remember the Herald food critic who used to take 1 point off (out of 5) if water was not immediately available?
Madame Woo describes its menu as "authentic Malaysian Hawker Food". It's open seven days noon to late and warns of "one bill per table". They take bookings for parties of six or more, but its take-your–chance otherwise. Parking's not a problem. As Metro's reviewer, Simon Wilson, wrote, no doubt with eyebrows raised and buttocks clenched, "And you sit there, looking out at Takapuna's finest carpark, lit up by KFC." Our table overlooked the carpark, but I didn't notice a KFC.
It's a large restaurant. We were advised to be there by 5:30pm on Monday if we wanted to guarantee a seat. It was full by 6:00pm. The atmosphere was relaxed. Customers were clearly enjoying themselves but the noise level was fine thanks to a cavernous ceiling. There was plenty of space between tables.
Our waiter was efficient and knowledgeable, happy to share an opinion on both food and wine, although a strong Kiwi accent and rapid delivery made it hard to understand every word.
We both ordered a cocktail; Ginger Mojito for me and a Singapore Sling for Marion. I have been on a mission to make a good Mojito since tasting a brilliant example in Queenstown a few years ago. I've downloaded many different recipes and have even attended a Mojito-making class run by a Cuban Rum company. All to no avail. Every Mojito I have made has been dismal. Madame Woo's Ginger Mojito was truly brilliant! A large chunk of fresh ginger transformed a simple Mojito into a refreshing, spicy cocktail that I now plan to duplicate. Marion's Singapore Sling was tasty if very slightly too sweet, although it went well with the wonton entree.
I followed my cocktail with a glass of Mount Edward Riesling ($11 – previous tastings) chosen from a reasonably well-selected 50-wine list, with about half offered by the glass. Wilson complained that all of the wines should be available by the glass, ignoring the fact that the risk of oxidation increases exponentially as the list gets longer. 25 carefully chosen wines by the glass offers plenty of choice. I was, however, annoyed by the lack of vintages on the wine list.
We shared a plate of four Pork & Lup Cheong Wonton ($10). Verdict: the crisp and crunchy texture of the Wonton worked well although the subtle flavours of the filling needed to be amplified.
For a main I ordered Shredded Duck & Cabbage Salad ($18) which was outstanding. A combination of cool from cucumber and cabbage, with perfectly pitched chilli and lime dressing was exactly as the waitress had described. The restaurant doesn't adjust spiciness to suit each customer and pitches the level of heat at pretty much the same in every dish (according to the waitress). That might not suit everyone but it worked for us.
Marion chose the Nonya Chicken Curry ($29). Slow-cooked chicken thighs on the bone in a rich, flavoursome sauce accompanied by a bowl of sticky rice. We both thought it was truly excellent. Great flavours and a generous serving – Marion couldn't quite finish it, even with my help.
Our total bill, including drinks, was $100. That represents very good value. We plan to return soon. There are many more tempting dishes we'd like to try.
Were the other reviews too tough? The Metro review was made shortly after the restaurant opened when teething problems are most likely to arise. However, I thought that Wilson's criticisms revealed more about the man than the restaurant. It was a cleverly written and entertaining review but far too mean-spirited.
Cuisine's reviewer, Sarah Wall, was much more positive, which makes her low rating of 13.5 points something of a surprise.
I guess that every review is a snapshot, especially when balanced with the success that Madame Woo has enjoyed. I strongly recommend it.
Madam Woo – Takapuna
Address: 486 Lake Rd, Takapuna, Auckland
Telephone: 09 489 4601
Website: http://madamwoo.co.nz/takapuna
Opening hours: 7 days – noon to 10pm