Champagne Bruno Paillard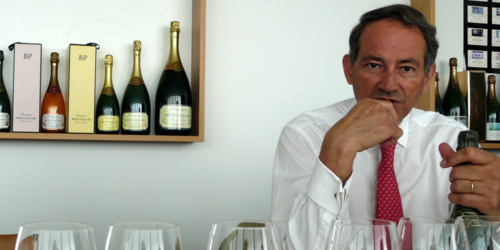 Bruno Paillard (pictured) is a latter-day pioneer in Champagne. He didn't begin buying vineyards until the mid-1990s, and now he owns 32 hectares of vines. This constitutes more than 50% of the company's needs, according to his daughter Alice Paillard, who visited Australia recently. This is exceptionally high.
Bruno put wine production first, however, establishing his own Champagne house in 1981, which is one of the few recently-established 'maisons' and is still family owned and operated. Bruno had plenty of contacts among growers because he'd previously worked as a courtier. Champagne Bruno Paillard (tastings) these days produces between 400,000 and 500,000 bottles a year.
When he began buying vineyards, Bruno immediately re-introduced ploughing, which had become unfashionable in Champagne. This went hand-in-hand with his ban on herbicides. An extra benefit of ploughing is that it disrupts the surface roots and thereby encourages the vine to put its roots deeper. The benefits of deep roots are resistant to both drought and excessive rain, as well as – some people believe – a better expression of terroir.
According to Alice, the entry-level non-vintage wine, named Première Cuvée (tastings), was created in response to the homogenization of non-vintage cuvées during the 1970s.
In 1983, Bruno was the first in Champagne to put the disgorgement date on the back-label. This is so that consumers can quickly see whether the bottle is fresh or old stock. Old stock might have suffered from incorrect storage.
The latest move, said Alice, was to remove the word 'Brut' from the Première Cuvée and Rosé Première Cuvée (tasting) labels. This is because the wines are not technically brut – which means a dosage level of 7 grams per litre or more. Bruno Paillard's wines have less than 6 grams/litre sweetness, which qualifies them to be labelled Extra Brut.
The Première Cuvée is a delicious wine, all the better for being relatively dry. It also has maturity – thanks to at least three years on lees, and then a further six months in the cellars post-disgorgement.
I see that my most recent review of this wine was written in September 2014 (tasting), but my most recent taste was in a masterclass I hosted for the Champagne Information Centre in September this year, when I thought it one of the best wines on the table. Highly recommended.