Alternative varieties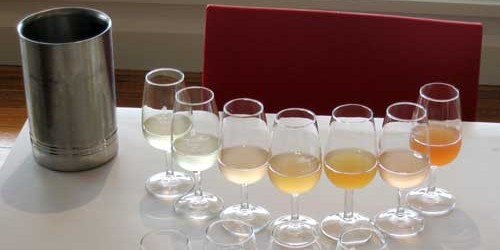 As rewarding as the conventional grape varieties are – and I've uploaded nearly 100 more chardonnay new releases this month, and 130 shirazes – the excitement in tasting a range of alternative varieties is compelling.
My recent tasting of 113 'other' white varieties included arneis, savagnin, vermentino, viognier, gewürztraminer, fiano, chenin blanc, gouais, marsanne, roussanne, verdelho, not to mention pinot gris and grigio. And some imports which included gruner veltliner, moschofilero, piquepoul, rkatsiteli and assyrtiko.
Looking at the wines that I rated 90 or above, there were several viogniers: By Farr (tasting), Clonakilla (tasting), Gatt (tasting), ArtWine (tasting) and Dromana Estate (tasting) – all 2014s, except the Farr 2013, which is yet another great wine from this consistent producer. Viognier may be unfashionable and hard to pronounce, but there are more and more good examples. They're lovely drinks in a fuller-bodied, richer style.
Vinoptima's 2010 Ormond Gewürztraminer (tasting) may be expensive, but it is seriously Alsace vendange tardive-like and has the bonus of five years bottle-age. In a less-rich, drier, less attention-seeking and more food-adaptable style is 2015 Toppers Mountain Barrel Ferment Gewürztraminer (tasting). This is a new style for Toppers and happily the oak adds interest without being obvious.
Oakridge's 2014 Over the Shoulder Pinot Grigio (tasting) and Local Vineyard Series Arneis (tasting) are both superb examples of their grape, at affordable prices, and show that Dave Bicknell has far more to him than a gift for Yarra staples chardonnay and pinot noir.
Kangarilla Road's The Veil Savagnin is a young (2013 – tasting) but serious attempt at a Jurassic Vin Jaune style, which will be on every snappy big-city restaurant's wine-list by now.
Billy Button's Jo Marsh continues her stunning run of Alpine Valleys dry whites with a lovely 2015 pinot blanc (tasting). Her 2015 vermentino (tasting) is also a beauty.
Handpicked Wines (tasting) and Warramunda (tasting) are showing that the Yarra Valley can do a very handy marsanne – although the Warramunda is clearly the better value at almost half the price of the Handpicked.
More tasty pinot gris comes from Kooyong with its 2014 Beurrot (tasting), and Moorilla with its 2014 Muse Series (tasting), while Geelong's consistent Clyde Park pitches in with its pure-fruited 2014 gris (tasting).
I'm a big fan of Rhone-style dry white blends, and John Duval's Plexus (tasting) and The Story Wines Westgate Vineyard (tasting) are two I especially enjoyed. Both 2014s, and both blends of marsanne, roussanne and viognier.
Gilligan of McLaren Vale reverses the order with a very good 2014 roussanne marsanne (tasting), and Michael Hall of the Adelaide Hills fields a flavour-packed barrel fermented Greenock roussanne (tasting).
Finally, McHenry Hohnen's 2011 Amigos (tasting), a marsanne, chardonnay and roussanne blend from Margaret River, benefits from a little extra bottle-age.
Lots of exciting drinking there.