Arras release 20th Anniversary Sparkling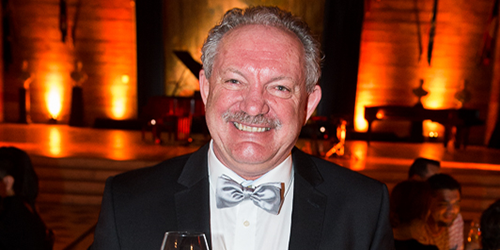 The 1998 Arras 20th Anniversary E.J. Carr Late Disgorged is one of the best Australian sparkling wines I've ever tasted. It was released at a grand event in Sydney last week: just 300 bottles, at $350 each.
The wine is the same wine that was initially released as a five year-old as the 1998 Arras Vintage Brut, then again after 10 years on lees as the first of the E.J. Carr Late Disgorged Arras line (tastings). The latest release has had 15 years on lees. With its silvery metallic label, it's a stylish package. It was poured to 75 guests including 'lifestyle journalists' (self not included) at the event in Sydney University's Great Hall.
Arras chief winemaker Ed Carr (pictured) said the wine was released to mark the 20th anniversary of the Arras brand. "Nothing happens quickly in the world of sparkling wine," Carr told me, "but the last 20 years have really flown by." He recalled that the conception of Arras began at Hardy's during the era of senior winemakers Peter Dawson and Tim James, before Hardy's was taken over by Accolade. "It's been a very exciting time. Life was simple back then. We just asked ourselves: 'Where do we go to make the best fizz? Answer: Tasmania'."
Things have changed little since 1995 when the first Arras wines were made. The 1998 Arras Late Disgorged (tasting) was made from 62% chardonnay, the rest pinot noir – a blend which has not changed for this wine. Chardonnay is the slowest and longest aging of the classic Champagne grape varieties, and Arras Grand Vintage (tastings) is designed to age.
By contrast, the Arras non-vintage – named Brut Elite – (the current Cuvée 801, based on 2008, is a stunning wine and just $40 – tasting), is majority pinot noir because it's drunk younger. It's a similar story with Bay of Fires (tastings) sparkling, which Carr also makes.
The other minor change is that the grapes these days come from the coolest and most consistent areas of the state, in the southern and eastern parts: the Derwent Valley, East Coast and Coal River Valley sub-regions. The 1998 was made from majority Tamar Valley fruit, with some Derwent and Coal River Valley. Neither the Tamar nor Pipers River sub-regions, both warmer districts, are used these days.
The most amazing part is that Ed Carr and his team have been able to produce a stunning array of top-level Tasmanian sparkling wines with extended ageing on lees, despite the many changes of ownership, leadership and direction from head office. The good news is that Accolade, while its ultimate aim remains to sell its wine interests, is more focused on quality than it has been, and is investing in the future. Cheers to that.