Bleasdale and its visionary founder, Frank Potts
Frank Potts must have been an extraordinary man. The founder of Bleasdale winery (tastings) in Langhorne Creek was born 200 years ago this year in England. He went to sea at the age of nine, and became a 'powder monkey', whose job was to carry gunpowder form the ship's magazine to the cannons, a dangerous job. Frank joined the Royal Navy and although records are sketchy, is known to have served on HMS Challenger for six years before the age of 21.
After leaving the Navy and working as a tallow chandler, he departed Portsmouth in 1836 and arrived later that year in South Australia. There, he became a boat-builder, an occupation he returned to later in life after founding the Bleasdale vineyard and winery at Langhorne Creek in 1850.
He's reputed to have chosen the site rather arbitrarily: "His wagon wheel caught in a wombat hole and he had to stop at Langhorne Creek and fix it, and he said 'This looks like a nice place to stop and settle'," as Bleasdale winemaker Paul Hotker tells it.
Potts took up land and, having learnt about vineyards while in Portugal, applied his knowledge. His building prowess knew no limits: he built houses, wagons, boats of all types (including fast racing yachts, ferries and river paddle-steamers), as well as the winery buildings, barrels, vats and anything else that was needed. His massive twin-basket lever press, its lever made from a single massive 3.5-tonne red-gum trunk, is still the centre-piece of the winery.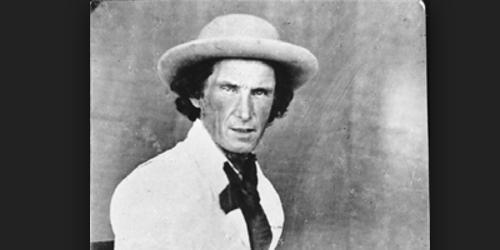 (Frank Potts)
The man himself was lean and wiry, with long unkempt hair, a right scruff to look at by all reports, but an absolute genius when it came to building or making anything.
Early in his time at Langhorne Creek, Potts realized the Bremer River, on whose banks he'd settled, brought plentiful water down from the Adelaide Hills to Lake Alexandrina every year from June to November, and by diverting some of the water he could irrigate his land and water everything he grew on it. He dug channels and a well, and built a pump to bring the water up from the riverbed-level to the surface.
His successors built a more advanced weir, improving on his initial efforts. Still today, the Bremer River floods regularly and the waters are diverted on to vineyards on the floodplain.
Frank Potts is still celebrated on the label of one of Bleasdale's best-selling wines, the Frank Potts cabernet sauvignon blend (tastings). At $35 and often discounted, it's regularly good value for money. The 2013 (tasting), which includes malbec, petit verdot, cabernet franc and merlot, is a tasty, blackcurranty wine with nice soft tannins.
Paul Hotker, who has breathed new life into the entire Bleasdale portfolio in recent years, tells lots of yarns about Frank Potts. "Frank is buried in the Bremerview vineyard next to his first wife," he says. "His second wife planted him there. She's buried in Strathalbyn (the biggest nearby town)." Make of that what you will.
The Potts family, Frank's descendants, are still the majority owners of Bleasdale and members of the family still work there. The local joke about Langhorne Creek is that you have to have a double T at the end of your name to have a vineyard there, witness the Cleggett, Borrett, Follett and Potts families. This conveniently overlooks the fact that there are notable families named Adams (Metala Vineyard) and Willson (Bremerton – tastings) making superb wine in the district.
One of the things Hotker has done at Bleasdale is to smarten up the white wines. As a former winemaker at Shaw + Smith (tastings), he knows where to find good sauvignon blanc in the Adelaide Hills, and his 2015 edition ($20 – tasting) is as good a Hills sauvignon blanc as you'll find. Fragrant, fresh, lively and clean, it has a palate that's delicate and fine yet intense and long.
In further homage to Frank Potts, the top Bleasdale shiraz is named The Powder Monkey, and the 2013 (tasting) is a deliciously lush wine. As well, the top cabernet sauvignon is named The Iron Duke (tastings), which was the nickname Frank gave his favourite gun. Hotker uses this as a cue to tell a story of how Frank was convinced the Russians were coming to invade Australia at one time, so he raised a militia which consisted of Langhorne Creek locals armed with muzzle-loaders, pitchforks and whatever else. I note there is no mention of this in the official history of Bleasdale. The Iron Duke 2012 (tasting) is just the second release of this wine, and is rich, succulent and ripe, with ample soft tannins and none of the leafier expressions of cabernet.
The third wine in the top-shelf of Bleasdale reds is the Double Take Malbec (all three are $65 – tastings), of which the even years are the best (2010 – tasting, 2012 – tasting and yet to be released 2014) but the '13 is also very good. Langhorne Creek is unassailable as the outstanding Australian region for malbec, and Hotker says malbec has been grown there since the 1890s. Even so, its notorious biennial cropping habit is well entrenched. Every second year it sets a big crop, and presumably because of hormones in the vine, it ripens the big crop superbly by ceasing vegetative growth and diverting all its energy into ripening the grapes.
"Oddly," says Hotker, "the low crops coincide with the lesser years." In the odd years, malbec has a bad flowering and sets its fruit poorly, with the result that you may find just five berries on a bunch.
It shouldn't be assumed that the odd-year wines aren't good: on the contrary, the 2013 Generations Malbec ($35 – tasting) is a lovely chocolate and violet scented wine with soft tannins and elegant structure.
There is also a shiraz under the Generations label, the 2012 being current (tasting): a marvelously fleshy, concentrated, full-bodied wine of great charm.
The good news is that Bleasdale is 165 years old, in good hands, and the wines have never been better.