Does pinot noir work in the Orange region?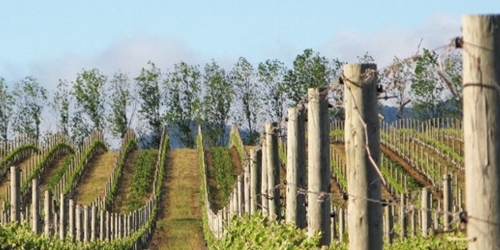 Pinot noir in the Orange region has never really delivered a great wine, in my opinion, but I saw some new wines on my visit last week that could change my mind.
The chief judge at this year's Orange Wine Show, Gary Baldwin, somewhat echoed my thoughts in his comments at the awards presentation, as he suggested Orange's future lay in other varieties. There was no pinot noir trophy awarded. The judges' comments were "Some nice wines awarded but not enough primary fruit for gold medals. Some attractively aromatic examples but palate weight or concentration is the problem…"
Of course, just because there was no gold-medal pinot in this year's show doesn't mean they don't exist. In my experience, Orange region pinot is normally light-coloured and light-bodied: nothing wrong with that, except that they are also often sappy and vegetal. Last year's top pinot, Philip Shaw No. 8 Pinot Noir 2013 (tasting), was very decent when served at the trophy dinner, but far from exciting.
The top scorers in this year's show were Borrodell 2012 (top scorer), two Brangayne wines, 2013 and 2014 (tastings), and Colmar Estate 2014. All silver medals. I didn't judge the show, incidentally, but visited a number of wineries over four days.
At De Salis (tastings), I tasted the best Orange region pinots I've seen so far, from the 2013 vintage. Winemaker/owner Charlie Svenson doesn't add enzymes or tannin to his wines, which many pinot makers do, especially our cousins across the Tasman, and these additions boost colour and body weight. The lack of these little helpers can partly explain pale-coloured and light-bodied pinots, but De Salis's 2013s are impressive without any boosting. The 2012s are a step up from prior vintages but the '13s are superb. There are three: the regular bottling, the Lofty White Label and the Lofty Blue Label. The Loftys were both eye-openers.
I didn't taste any younger wines from barrel at De Salis, but tasted younger pinots at Ross Hill (tastings) and Philip Shaw ex-barrel, which were also exciting. Swinging Bridge (tastings), which sources grapes from the former Rosemount vineyard Balmoral, is also in the hunt.
The challenge in Orange is not to make dark-coloured, dense, full-bodied pinots employing all the tricks in the winemaker's book, but to make fragrant, beautiful pinots with elegance and finesse, as well as pinosity, displaying good concentration of ripe fruit aromas and flavours, structure and palate length. Pinot is a wine with a high degree of difficulty, and takes more years to perfect than most grape varieties. Orange may never challenge some of the more southerly regions, but I'm sure we are still to see the best it can do.