Young Gun of Wine winner announced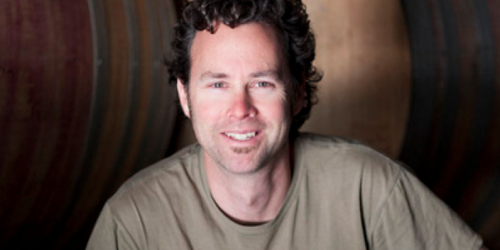 Adrian Rodda (pictured) is this year's Young Gun of Wine. The Beechworth-based winemaker, whose brand is A. Rodda, is making some very fine chardonnay, as well as a cabernet-based red Cuvee de Chez, and tempranillo. He was assistant winemaker at Oakridge (tastings) before setting up on his own.
The Young Guns of Wine, which began in 2007, is Melbourne-based but this year held its presentation ceremony in Sydney for the first time. Each year a panel of judges selects 12 finalists, who are presumably deemed to be young – but there is no specified age limit. The aim is to identify and encourage emerging talent in winemaking, to find individuals who are pushing the envelope and showing creative flair, leadership, vision, influence, and of course making exciting wines which demonstrate their talent. Firstly, a short-list of 25 is selected, and these people are invited to submit wines for the panel to taste.
The 2015 finalists and awardees are as follows (their labels/brand-names are in brackets):
– Adrian Rodda (A. Rodda Wines – tastings) *YOUNG GUN OF WINE*
– Steve Crawford (Frederick Stevenson) *WINEMAKERS' CHOICE*
– Michael Downer (Murdoch Hill – tastings) *WINEMAKERS' CHOICE*
– Laura & Brendan Carter (Unico Zelo) *PEOPLE'S CHOICE*
– Luke Growden (Year Wines) *BEST NEW ACT*
– Ben Chipman (Tom Foolery)
– Marco Cirillo (Cirillo – tastings)
– Jarad Curwood (Chapter Wine)
– Brett Grocke (Eperosa – tastings)
– Brendon Keys (BK Wines – tastings)
– Simon Killeen (Simao & Co)
– Adrian Santolin (Santolin – tastings)
The People's Choice award was decided at a public tasting held at the awards presentation venue, Nomad restaurant in Surry Hills, on October 12. The finalists all poured the wines they had nominated for the formal judging between 6 and 8pm that evening.
The Winemakers' Choice award was shared for the first time. After a split vote in the first round judging, a second ballot was held on the awards night. The result? Another split vote!
This year's judges were headed by writer Nick Stock. Past Young Guns of the Year include Matt Gant (First Drop – tastings), Pete Schell (Spinifex – tastings), Colin McBryde (Some Young Punks / Adelina – tastings), Rollo Crittenden (Crittenden Estate – tastings), Taras Ochota (Ochota Barrels – tastings), Abel Gibson (Ruggabellus – tastings), Mike Aylward (Ocean Eight – tastings), and Fraser McKinley (Sami Odi – tastings).
It's good that the awards have come to Sydney this year, which will help counter the perception that it's a Melbourne-centric competition. But a second criticism is that it seems a bit of a boys' club. In nine years, the Young Gun of Wine has never been won by a woman, and only 18 women have been nominated, while 81 men have been nominated, by my count. Does this really reflect the current younger generation of winemakers?