Leo Buring riesling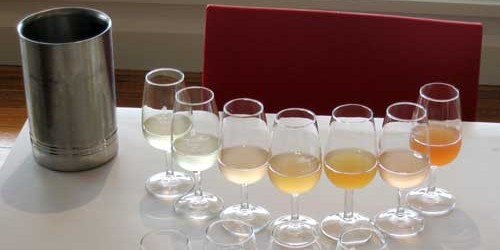 There is no greater name in Australian riesling than Leo Buring (tastings). Leo Buring himself lived between 1876 and 1961 and has been described as the Len Evans of his day, the Mister Wine of his time, a man who was many things – a trained oenologist, a winemaker and viticulturist, wine judge, wine educator, businessman, marketer and salesman.
He wanted to study medicine, but was told by his father Hermann Buring, also a wine-man, that his future was in wine. His father was the Buring of Buring & Sobels who started Quelltaler in the Clare Valley (now Annie's Lane). Leo Buring was a wine merchant who had cellars in Sydney and was a great educator and ambassador for wine at his wine-bar, Ye Olde Crusty Cellars in George Street.
The Leo Buring riesling legend began in 1945 when he bought his first vineyard and began building what became Chateau Leonay at Tanunda in the Barossa Valley. In 1955 John Vickery joined Leo Buring as winemaker. Vickery was pivotal in creating the great name for riesling that Leo Buring still enjoys. Today Leo Buring is part of Treasury Wine Group, the winemaker is Peter Munro, and since 1999 Leo Buring has made only riesling.
Today there are four wines: the entry-level wines are Clare Valley Dry Riesling and Eden Valley Dry Riesling – both $20. Then there is the newest addition to the range, a Tasmanian riesling named Leopold. At the top of the totem is Leonay, which is the reserve-style riesling, named after Leo Buring's Chateau Leonay winery.
This $40 wine is the pick of the vintage and can be either Eden Valley or Clare Valley, depending on Munro's choice. Some years there's been one of each, but this is rare. Every Leonay bears a bin number: for example, the newest release is 2015 Eden Valley Leonay DW S17 (tasting), and it succeeds the 2013 Watervale Leonay DW Q18 (tasting). The DW stands for dry white, and the third alphabetic letter moves with the vintage, so the 2016 will be DW T-something. (The Watervales these days are numbered 18, the Eden Valleys numbered 17.)
I recently tasted back through several Leonays with Peter Munro, and while I didn't need to be reminded of what a great vintage 2002 was (tasting) – and still is – the big surprise was the 2015: another thrilling Leonay.
The 2002 is from a freak vintage. Many '02 Clare and Eden Valley rieslings are still drinking magnificently, as is the Leonay, at 13 years of age. The freshness is the first thing that impresses, but then the wonderful complexity of flavour, the finesse and length of the wine, and its impeccable balance impress themselves on the senses. It's a wine of true beauty.
The 1990 (under cork – tasting) is fully mature and, depending on bottle variation, gently declining now – but good bottles are superbly rich and golden. The 2005 (tasting) is a magnificent wine from another highly touted vintage; the 2008 (tasting) is a very good and somewhat surprising wine from a hot year; and the 2013 is another terrific wine, while the 2015 is simply outstanding. This is a wine of real finesse, to buy by the case and cellar for many years. You could put down a dozen and enjoy a bottle a year for 12 years, marveling at its evolution.
The Leo Buring riesling reviews are on the huonhooke.com app now, together with reviews of other superb Treasury rieslings – the Heemskerk 2014 (tasting), Seppelt Drumborg 2015 (tasting) and Saltram Mamre Brook 2015 (tasting). Great summer drinking.