Waiheke reds rock in 2013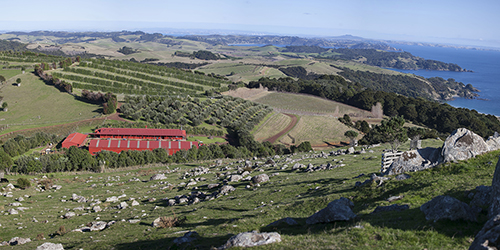 It's not often that New Zealand has a vintage offering top wines in every region, thanks to 1500 kilometres of latitude and wide ranging terrain both of which tend to promote diverse weather conditions. But in 2013 every region seemed to hit the jackpot, particularly in the North Island. Red wines in Hawke's Bay have been touted by many makers as "best ever". The same may be true of Waiheke reds from the exceptional 2013 vintage if recent reviews are anything to go by.
Warm, dry and sunny weather provided perfect ripening conditions that removed pressure from the harvest and allowed many makers to harvest grapes at optimum ripeness. Some vineyards were affected by powdery mildew, although careful management by diligent growers allowed many to avoid the problem.
Te Whau 2013 The Point; a complex blend of Cabernet Sauvignon, Cabernet Franc, Malbec and Petit Verdot; was the best ever from this quality-focused producer. It's a safe bet that this collectible wine will cellar very well, becoming smoother and even more complex with bottle development. Te Whau 2013 Syrah was another winner. It's an elegant yet powerful example of a variety that excels on Waiheke in a good vintage. Mudbrick Vineyard 2013 Syrah is a similar success story. It's an intense, powerful red with soft, rich tannins and a silken texture making it deliciously accessible.
These latest release wines join a growing number of other top reds from Waiheke's 2013 vintage including Soho Zabeel, Cable Bay Reserve Syrah, Man O'War Dreadnought, Obsidian Reserve Syrah, Mudbrick Velvet and Passage Rock Reserve Syrah.