Bridge Pa Wine Festival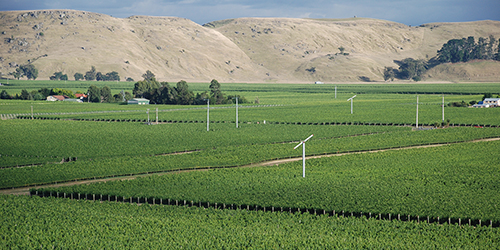 Bridge Pa Triangle Wine District suffers from an identity crisis. The 2,000-hectare Hawke's Bay sub-region has been variously known as "Ngatarawa Triangle", "Redmetal Triangle", "Bridge Pa Triangle" or simply "The Triangle". The region recently launched a website www.bptwd.co.nz that describes the region as "Bridge Pa Triangle Wine District" – a bit of a mouthful, although the site frequently abbreviates it to "Bridge Pa Triangle" which is better if a little inconsistent.
The site features a snappy "Bridge Pa Triangle" logo affixed to all of the bottle shots on the website, although I failed to find the logo on any of the bottle shots featuring in member winery websites. Still, its early days and I'm sure that the sticker will begin to appear as websites are updated.
The sub-region held a festival early this year and now plan to offer a "bigger and better" event on 23 January 2016. Tickets for the 2016 Bridge Pa Wine Festival are now available from Eventfinda http://www.eventfinda.co.nz/2016/bridge-pa-wine-festival/hastings or the cellar doors of all participating wineries. Tickets are available for $30.00, $45.00 and $50.00, which includes access to all wineries, a festival glass and an all-day bus pass. Buses will depart for the festival from Napier, Taradale, Havelock North and Hastings, beginning at 9:30am. You can also purchase tickets for $20 per person which gives you access to all wineries and festival a glass (but you provide your own transport).
Festival spokesman Paul Ham said,"The Bridge Pa Wine Festival will offer festival goers the chance to experience what makes the region unique, meet the winemakers and enjoy local food and entertainment. Abbey Cellars (tastings), Alpha Domus (tastings), Ash Ridge (tastings), Hawke's Ridge (tastings), Ngatarawa (tastings), Paritua (tastings) and Sileni Estates (tastings) will all host individual events, including masterclasses, music plus food and wine matches."