Born & Raised new releases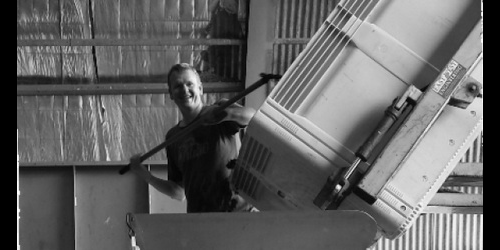 David Messum (pictured) is the owner and winemaker of Born & Raised (tastings), a young Englishman who has been in Australia nine years and has a plan. His slogan is that he makes small-batch, alternative Australian styles. That's pretty much what you have to do if you're a new, small entrant into winemaking these days. It's hard to get a run in retail shops, and a cellar door is not an option at this stage, but if you can angle your wines at the sommeliers and frequenters of small winebars, you might have a chance.
To this end, Messum has all the right key-words. A skins-fermented sauvignon blanc (tasting). A 'field blend' of riesling, moscato giallo and gewürztraminer (tasting). An unfiltered, wild-fermented grenache (tasting). Ditto nebbiolo (tasting). His speech is peppered with such words as 'smashable', 'chalky texture' and 'food-friendly'.
His wines are made in other people's wineries with purchased grapes. They are, in his own words, made with minimal intervention, wild ferments, and little or no filtration and fining. His philosophy: "We're only here for short time, so better make it count and drink some good booze along the way."
I liked his booze, and I liked him. He's having a red-hot go and I'd like to see him succeed. I especially liked his 2013 The Super T (tasting), a sangiovese cabernet merlot, made from Heathcote and Sunbury grapes: a kind of hommage to Italy's Super Tuscans. Priced at $35, it's a ripping wine. If another fashionable phrase is that the wine improves in the glass, he should add that to the list, because it does. A multi-layered foresty, earthy wine which unravels more the longer it sits in your glass.
He's doing his own distribution in NSW: david@bornandraised.com.au; 0432 787 277.