Forkin' Beautiful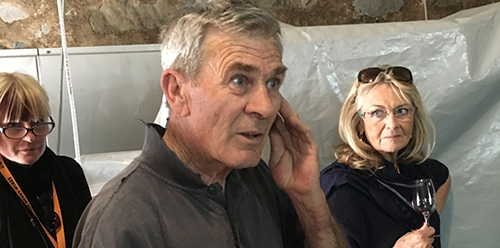 Wendouree winery is one of the most traditional in Australia, proving (if any proof were needed) that modern technology is not needed to make great red wine.
There are a handful of innovations at Wendouree and you could probably count them on one hand. The 2013 wines I tasted at the winery last week have now got a screwcap: even the seemingly timeless Tony and Lita Brady can appreciate that a screwcap nullifies cork taints and sporadic oxidation. But they don't use the usual Stelvin cap. Ever thoughtful, and aesthetically conscious, they've chosen a more stylish version – the Guala screwcap.
This has a smooth exterior, as the thread is on the inside only – rather like the Stelvin Luxe. Painted in Wendouree red, it looks rather nice on their bottle.
Another innovation, and this one was totally unexpected, is a lightweight fork, made of carbon fibre – like a Formula 1 car body. It's as light as a feather.
Tony Brady (pictured) explained that the new fork weighs just 800 grams, whereas the old steel fork from which it was copied weighs 2.5kg. He'd calculated how many tonnes of lifting the new fork was saving the forkers in a vintage. Wendouree still forks its stalks from the crusher/destemmer into a bin at harvest, and every time they lift a fork-load of stalks they're needlessly lifting 2.5kg of fork'n steel.
Tony rattled off the numbers, which were in his head, but I didn't manage to scribble them down, because I was using old technology – pen and paper. Could be a lesson there.