Master
You occasionally overhear visitors to our island home saying that the best Asian food outside Asia can be found in Sydney. Like all compliments it's hard to argue with, although in truth the past grotesqueries of farang Thai and 'Choynese' cuisine aren't completely behind us. What's a fact, however, is that there's a new generation of innovative young chefs in kitchens across the city, creating cosmopolitan modern Australian food with a distinctly Asian mood. It's found in places as far apart as Sepia, Rockpool, Cho Cho San, Longrain, Spice Temple, to mention a gilded few. And now you can add Master in Surry Hills to the honour list.
At Master there's no particular showpiece dish. Your pleasure accumulates, as the sum of many small epiphanies: the salt and pepper veal sweetbreads with chilli and spring onions ($18), the sous-vide scallop 'silks' sliced so thinly they're as diaphanous as a Victoria's Secret gift pack, dressed in a house made XO sauce ($4 pp); the mysterious butter and fish sauce smeared on an alarmingly fire-blackened white cabbage ($18) ; the sweaty, almost feral potency of lamb with a cumin crust ($28); 'strange-flavour' pork, sliced thinly in the same way as small, traditional Chinese cold meat dishes (not strange by the way, simply delicious) ($16) ; the murmur of Sichuan heat finding its way into in a traditional Hainanese white cut chicken ($18).
Chef John Javier (ex-Quay, Noma, Momofuku Seibo), at a mere 27 years old, is sending out exciting modern Asian gear, where one hero element pays homage to the diverse Chinese regional canon, as in a whole snapper seasoned with whole salted black beans ($34) and slow-braised pork jowls served in the manner of Peking duck ($32). There's humour here too. Javier's tongue is firmly in his cheek with deep fried ice cream, a fun homage to an old-school suburban 'Choynese' menu favourite ($10). In this instance he infuses milk and cream with potato skins roasted in butter, to create potato ice cream, which is lightly tempura -battered and served on a sweet, chocolaty, muscovado crumble. Say what? There's something very open-minded about the food at Master.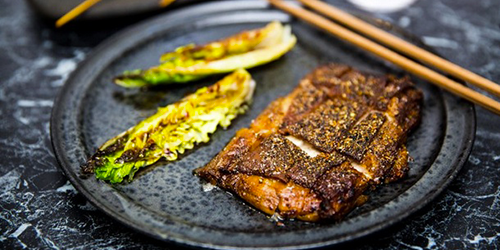 That's also true of the space, which could just as easily moonlight as a café. White walls are hung intermittently with Chinese- style woodblocks, the tables are spray-and-wipe and there are a few vaguely light-industrial touches, involving exposed bricks and copper pipes. As with that deep fried ice cream, I really wanted to like the soundtrack at Master (on my visit early 80s hip-hop a la Grand Master Flash). By the end of the night, in the grip of a sort of diner's Stockholm Syndrome, I did. It's that kind of a place.
The Master wine list is small and militantly quirky; but unlike some lists around the traps, quite approachable. Even if natural wines don't fly your plane, you still won't have too much trouble finding an attractive cabernet franc, such as the one from organic Loire producer Domaine Bobinet ($13 per glass) or a rare thirst-quenching chardonnay/pinot gris/riesling blend called, somewhat abruptly, 'Brian', and ($66) made by 'three ludicrous minds' (Joe Holyman, Mike Bennie and Peter Dredge) down in Tassie. A useful selection of hip beers such as Moritz and Tsing Tao awaits you too.
Service is good-natured, without being supremely informed. If you need something esoteric from the wine list or directions to the bathroom there's always the fall-back position of asking co-owner Jarred Roker (ex-212 Blu café-wine bar).
Props to Master for breaking the rules in so many clever ways, with its breezy, freewheeling approach to the usual limitations of the Asian tradition. And I promise, that if you too bring an open-mind to Master, you'll have your reward.
Master
Address: 368 Crown St, Surry Hills
Phone: (02) 8065 0838
Open: Dinner: Tues-Sun 6-10PM
Price: E: $4 -$18; M: $18 -$36; D: $10
Rating: 15/20
How good was the food? 4.5 /5
What was the service like? 3/5
Did the atmosphere work? 3.5/5
Is there an X Factor about this place? 4/5