Swan Valley's hidden surprise: fine dry whites among the heavy reds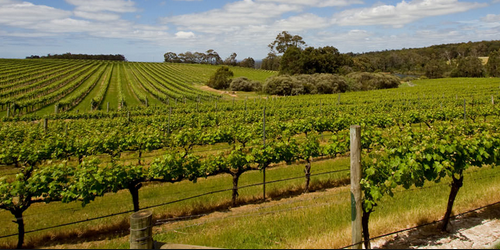 Can you name Australia's second-oldest wine region? The Hunter Valley is well known as our oldest major, continuing wine region, but Western Australia's Swan Valley is second. Less than an hour's drive up the picturesque Swan River from Perth, the region's wine industry was established 181 years ago.
There's no avoiding the fact that it's also a hot region, and hot regions have been unfashionable of late. Like Rutherglen, the Barossa Valley and McLaren Vale, it was established when fortified wines were the most popular styles, and hot regions are well suited to ports, muscats and sherries.
But the Swan is a region of hidden surprises, as I discovered recently when judging the local wine show. Yes, its fortified wines are sensational: think Talijancich (tastings), John Kosovich (tastings), Sandalford (tastings), Houghton (tastings) and others. And its full-bodied reds from shiraz, cabernet, malbec, grenache and durif are famously rich and hearty. One thing the winegrowers never lack is sun and one problem they never suffer is unripe grapes. And despite the rise and rise of cool climate regions since the late 20th century, there is still a place for full-bodied, high-alcohol, gutsy red wines. There always will be.
I tasted some gorgeous full-throated shiraz from Sittella (tastings), Mandoon Estate (tastings), Faber Vineyard (tastings), Olive Farm (tastings), Pinelli (tastings) and Upper Reach (tastings) wineries.
But the hidden surprise in the Swan is its fine dry whites – not a style of wine you'd predict from such a hot, dry climate. And no, we're not talking riesling, chardonnay and sauvignon blanc. We're talking chenin blanc and verdelho.
These varieties have always been grown in the Swan. Jack Mann based his first Houghton White Burgundy on chenin blanc way back in 1937. It's been part of the wine – now labelled Houghton Classic – ever since.
When produced in the Swan by people who know how to do it, both varieties can be amazingly long-lived. I tasted a 1997 John Kosovich Verdelho which was still good, golden and rich, although admittedly getting a little past its peak now. Kosovich and his winemaker son Arch showed me their dry chenin blanc from 2014 back to 2006. The '06 is a crackerjack wine – all toast and nuts and lovely balance. The 2014 is current (at $22), and they were about to re-release the 2010 at $35. At five years old, it is in a beautiful place. Just to underline the point, it won a gold medal at last year's Swan Valley Wine Show.
The stars of chenin blanc this year were 2015 Windy Creek (trophy for a beautifully refined, soft, balanced wine), with other good wines coming from John Kosovich and Olive Farm. Special mention goes to Bella Ridge (tastings), which doesn't enter shows, but whose chenin blancs are among the best in the region – in an altogether more European style; the 2010 fine and complex with notes of fruits both fresh and cooked. The 2004 Bella Ridge is still youthful and drinking superbly.
The best of these wines are excellent young, but with about five years of age when they acquire a little bottle-aged complexity, they are superb.
In the dry verdelhos, Mandoon Estate 2010 snaffled the trophy. Still light yellow, with flinty/mineral aromas, it's steely and fine on the palate and a glorious drink.
I've also enjoyed Faber Vineyard verdelhos with some bottle-age; the 2009 (tasting) is a wine that's delighted me in the past, but in the Swan show, I was impressed with the 2013 (tasting), a little more herbal perhaps but also mineral and beautifully textured. These wines often have a few grams of residual sweetness, which is not enough to prevent them being classed as dry whites but softens and juices up the palate nicely.
Sittella also makes a very handy sparkling chenin blanc from Swan grapes, while its key focus is making high-quality methode champenoise from Pemberton fruit. Its 2009 pinot noir chardonnay (tasting), after five years on lees, is a superb sparkling wine and a steal at just $28 ex-winery. It recently won the sparkling trophy at the Winewise Championships. The Sittella owners, the Berns family, employed Colby Quirk, a former Domaine Chandon winemaker, to apply his expertise to the bubbles. He's assisted by young Yuri Berns, son of the owners, a champagne nut and a past student-section Vin de Champagne Award winner.
Sittella is one of the Swan's newer wineries and also has an excellent restaurant. Speaking of the stomach, I was impressed by the Fillaudeau restaurant at Pinelli winery, while the region's showpiece is undoubtedly Mandoon Estate, also new (built 2009; first vintage 2010), and doing serious food, but much more than that. The complex, opened only a year ago, has a brewery, art gallery, tavern, fine dining restaurant, cellar door sales, kids' playground, state of the art winery, and a function centre which seats 400. Already 5000 to 6000 visitors a week go there. And there are plans for a distillery and river-frontage accommodation. Just 25 minutes from the Perth CBD. And did I mention their wines, made by Ryan Sudarno, are doing wonderfully well in shows? These people are in a hurry!
I haven't left room for the fortifieds – but you should, at the end of a meal. Suffice it to say these wines, made variously from long wood-aged muscat, verdelho, shiraz and pedro ximinez, are sensational. At their best, they can equal those of Rutherglen and the Barossa. The champion wine at this year's show was Talijancich 2007 Pedro Ximinez, a freak wine, and I use the term deliberately. As rich and delicious as honey, but much more drinkable.