German rieslings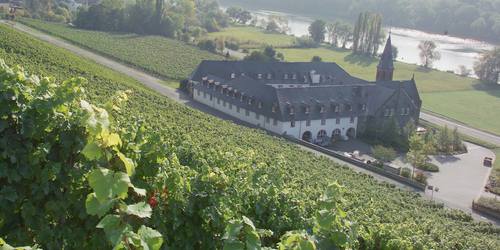 Lovers of the finest German rieslings from the Mosel-Saar-Ruwer region, gather around!
Following my visit to the region 14 months ago, I negotiated a special shipment of Reichsgraf von Kesselstatt wines direct from the winery in the Ruwer Valley (pictured). The owner and manager, the wonderful Annegret Reh-Gartner, sold me at a very generous price a mixed dozen vintages, spanning 1989 to 2013, of her Scharzhofberger Spätlese (tastings), including back-up bottles. I paired these with as many vintages of Egon Müller's equivalent Scharzhofberger Spätlese (tastings) as I could find. There were eight, spanning every year from 2006 to 2013. The tasting was held at the Second Tuesday Club in August.
There were many superb wines, and the few disappointments were mostly due to cork closures. This unfortunately afflicted Kesselstatt more than Müller. Two reasons for this: the Mullers were mostly under screwcap: 2009-2013 inclusive were screwcapped, while '08 (tasting), '07 (tasting) and '06 (tasting) were under cork. This didn't prevent the '07 being one of the best wines of the tasting: a beautiful drink, with a fine, tight, mineral bouquet and a superbly taut palate; racy and focused, with modest sweetness, great line and length.
The Kesselstatts were all cork-sealed, and the vintages were 1989 (tasting), 90 (tasting), 97 (tasting), 01 (tasting), 03 (tasting), 04 (tasting), 05 (tasting), 07 (tasting), 09 (tasting), 10 (tasting), 12 (tasting) and 13 (tasting). I opened second bottles of approximately half these wines because of suspicions of cork-derived taints or oxidation. Usually, the second bottle was fresher, but once or twice the second bottle was worse than the first! The abiding disappointment of the tasting was that these wonderful, delicate, perfumed, fragile wines should be sealed with a substance as unreliable as cork.
However, the highlights were many and the tasting was memorable. As a general observation, the Kesselstatt wines were slightly sweeter than the Müllers, and the Müllers had greater consistency of style and marginally greater concentration.
That said, the 2010 Kesselstatt was my equal-top wine of the tasting. With a flinty mineral aroma, it was tight and fine, delicate and less-sweet than usual, with great acidity and a very long finish, while maintaining a lovely lightness of touch. This vintage reversed the expected role with the 2010 Müller (tasting), which was the sweeter and richer of the two.
Heavenly wines!
*The tasting notes are all on the huonhooke.com app now.