Meet Rebecca Gibb, the latest Kiwi MW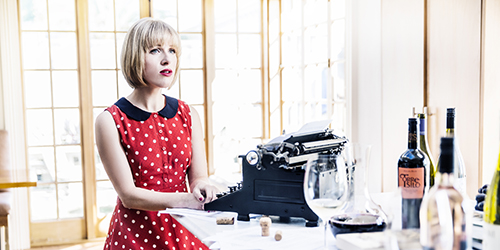 Actually, Rebecca (pictured) was born and raised in the north-east of England and has a strong accent to prove it, but she is now an adopted Kiwi, which brings the total number of local MWs to 11. That gives New Zealand the second highest number of MWs per capita after the UK.
Rebecca is the Great Britain under 19 100-metre hurdle champion, plays the cello, is a closet darts fan and loves penguins. She won the UK Young Wine Writer of the Year in 2006 and has written for many wine publications, including a three-year stint as editor of Wine Searcher. She left Wine Searcher to work for a new luxury wine magazine, Le Pan. She is the mother of 14 month-old baby boy called Mac.
I asked her how she felt when she learned that she'd passed the exams. "It was a huge relief. The last part of the exam – the research paper – turned out to be a much bigger effort than I had imagined and I am not sure I could have faced writing another! Of course, I was happy too – absolutely delighted. I may have cried a few tears of joy too."
Studying for her Master of Wine was a logical decision. "I have always loved studying, love wine, and am always up for a challenge."
Rebecca wrote her research paper on the 1911 Champagne Riots. If that wasn't difficult enough, she wrote it shortly after her baby was born.
"I muddled through with the help of my husband and family. I wrote my Research Paper during maternity leave and would snatch a couple of hours here and there while baby Mac was sleeping in the afternoon. I'd be reading a journal in French from a Socialist periodical from the 1960s or combing the French National Library's archives, when I could really have done with a nice cup of tea and a rest! I think most other new mums were watching 'Dr Phil' or reading 'Grazia' at that time. The most intensive phase of the research came last December, when I spent a week in the Marne's department's archives conducting my primary research. My parents had to come with me to look after Mac during the day and they would bring him to the archives every three hours for a feed. It's all a bit of a blur!"
"My life ambition is to write popular wine history books – wine books that people who know nothing about wine want to read for enjoyment, in a Bill Bryson-style. Have you read his book 'At Home or Shakespeare'? They're interesting, informative books, but they're also a damn good read. My research paper on the 1911 Champagne riots is a step in the right direction. I just need to find time to put pen to paper (or should that be fingers to keyboard) between a full-time job and motherhood!"