Andrew Caillard produces new wine with family ties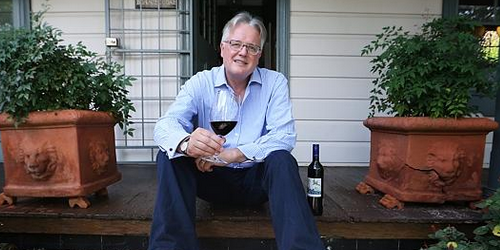 Sydney-based Master of Wine Andrew Caillard (pictured) has been making excellent Barossa Valley mataro since 2008. He's been helped in the marketing by his wife Bobby and occasionally in the production by eldest son Alex. The wines are always beautifully balanced and textured, and it could be argued that Caillard Mataro (tastings) kick-started a new wave of interest in this grape in the Barossa, which had been somewhat neglected. Caillard also produced a fine Barossa shiraz from the 2013 harvest (tasting), and now we have a new red wine, a cabernet sauvignon, this time from Coonawarra.
The point of difference is that it was made from the Reynell Selection, not in fact a clone of cabernet but a selection from vines which trace their ancestry to South Australia's first commercial vineyard, planted at Reynella in 1838 by John Reynell. The link is that John Reynell was Andrew Caillard's great great grandfather. Caillard's mother was born a Reynell. Due to wartime misfortunes, the male line of Reynells died out.
Indeed, the Coonawarra cabernet is a 'one-off tribute' to Andrew's great grandfather, Carew Reynell, son of John Reynell, who died at Gallipoli in 1915. The wine commemorates the centenary of Carew's death.
The Reynell selection is prized by winemakers in South Australia's McLaren Vale and Coonawarra regions. It is amazing that the selection has survived all this time. Andrew says the selection is valued for its small berries, thick skins and concentrated flavours. Among others, it is used to make Parker Estate First Growth (tastings). It's from the Parker vineyard that Caillard sourced the grapes, and the wine was vinified by Philip Lehmann.
Andrew Caillard, who has painted all of the Caillard labels, made an especially meaningful one for this cabernet. It depicts a fox, the Reynell symbol, the landscape of the Gallipoli Peninsula including the Sphinx and Razor's Edger, and the Southern Cross as well as the Turkish crescent moon and star.
The Caillard wine is a 2013 vintage (good value at $30-$35 – tasting) and is a deep, muscular wine, with a dark and brooding colour and a full-bodied palate which delivers density and structure, and promises to reward cellaring. A serious red indeed.
It's available from Dan Murphy's.