Oxford Companion to Wine – Fourth edition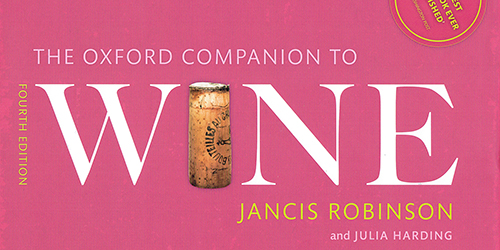 Everyone in the wine trade should have a copy of this invaluable book. Before I go on I should declare an interest – I have written the New Zealand section since the first edition was released in 1994.
I spend a lot of time on the Internet researching wine facts and seem to unearth more fiction than fact. The Oxford Companion to Wine is a solid gold "go to" when you want an explanation of a technical term or an authoritative view on just about any aspect of wine. It's 859 pages of wine wisdom.
When the first edition was released I had it by my bedside for months while I flicked through the entries in alphabetical order.
Since the last edition in 2006, there has been a thorough revision and an additional 300 new entries from Accolade (a wine group that boasts Australia's largest wine production) and additives to Zametovka (a dark-skinned Slovenian grape variety, a vine of which is the world's oldest at 400 years) and Zelen (a white-skinned Slovenian grape variety).
It lists wine production by country, New Zealand was 19th in 2012 but is now 13th, and wine consumption, we were 18th in 2012 with 26.1 litres per capita, well behind the leader Luxembourg with 60.7 litres but way ahead of China with a miserly 1.6 litres.
Described by The Washington Post as "The Greatest Wine Book Published". I can't argue with that.