The Oxford Companion to Wine 4th Edition now available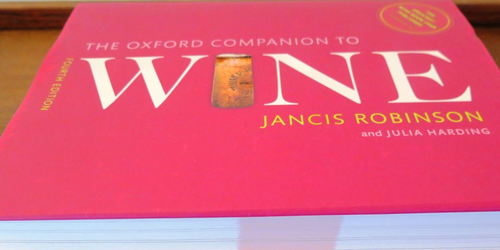 The fourth edition of what is arguably the world's most useful wine book, The Oxford Companion to Wine, is now on sale. Edited by Jancis Robinson and Julia Harding, it was officially released last week on September 17.
It's been nine years since the last revision, the third edition, was published in 2006. The world of wine has changed immeasurably since then, so the editors and their team of 187 contributors had their work cut out for them. As one of those contributors, I can vouch for the fact that the job is a thorough one.
The book weighs in at 2.75 kg and contains a million words. There are more than 4,000 entries, alphabetically listed from Abboccato to Zymase, including 300 new ones. More than 60% of entries had to be substantially re-written and the work took two years. It's a bit like painting the Sydney Harbour Bridge: you no sooner finish the job than you probably need to start again at the other end!
As Jancis writes on her blog: "Even some of the historians have had to revise their entries in the light of new discoveries, and leading authority Patrick McGovern has completely rewritten 7,000 words on the origins of what he calls viniculture."
Julia Harding has totally revised all of the maps.
Regarding new wine words, Robinson adds: "If anyone interested in wine doubts whether they need this new edition, I mention just one word: minerality. It seems extraordinary that this fashionable concept was not an important part of wine-tasting vocabulary back in 2006 – but at least this serves as proof of how rapidly the world of wine has been changing."
RRP: US$65; £40.
Amazon: US$42.
A digital version is expected to be launched this week.