Park-up spot among the vines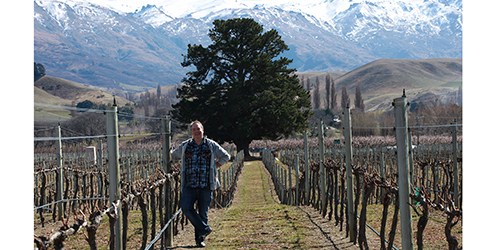 After working in IT in the UK for a few years Stephen and Thea Farquharson decided to return home to NZ. They were both from Oamaru, fancied working on the land and liked Central Otago. Winemaking was an obvious choice. Steve's sister, Jane and her husband Geoff, were also working in Europe and keen to back to NZ. The two couples decided to team up and plant a vineyard.
Steve studied viticulture and winemaking at the only wine school in the UK, Plumpton College. He also imported and distributed NZ wines "to learn about the wine trade and develop a few contacts".
They bought some land in Cromwell that had lain fallow for 100 years and was bare apart from a few trees that had to be felled to make way for the new vineyard. There was an outcry when contractors began to clear the land because the largest tree as a local landmark. It was a park-up spot that had been nick-named "the Wooing Tree". Steve saved the tree and cleverly adopted its name as his wine brand.
I visited Wooing Tree Vineyard and tasted a 10-vintage vertical of their Pinot Noir (tastings) from 2014 back to 2005. All of the wines were sealed with screwcaps.
My top wine was a complex, savoury 2008 that had retained enough fruit flavour to offer real complexity. The 2008 Central Otago vintage was a little over-shadowed by the "fruit bomb" 2007s and fairly forward ­­­2009s. While the 2009 Wooing Tree impressed me greatly (it was my second equal wine) I was less enamoured with the 2007, which was passed its best. Steve told me that the 2007 (previous tastings) had won more awards than any of his other wines.
Wooing Tree makes archetypical Central Otago Pinot Noir – typically lush, fruity wine that is often very accessible on first release but most have enough structure to allow them to develop well in bottle. They have a second label, Beetlejuice (tastings), which can offer excellent value for its relatively modest price of $28. Their premium Pinot Noir, Sandstorm Reserve (tastings), carries a reassuringly expensive price tag of $85.