Matua magic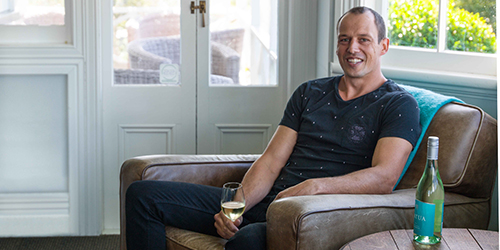 I can't remember any winery that has made such a dramatic overnight surge in wine quality than Matua. Prior to 2009 they had a very commercial product range with a strong focus on the cheap and cheerful end of the market. "Nek minit" they started making Single Vineyard wines that instantly earned a cap full of gold medals and trophies.
Much of the credit for the change must go to Nikolai St George (pictured), the thoughtful and enthusiastic winemaker that made it all happen, and chief viticulturist, Richard Shenfield.
2009 was such a good vintage for Matua in Hawke's Bay that they launched the Single Vineyard range with a Merlot, Malbec and Cabernet Sauvignon. Vineyards and even regions can vary from year to year as they select the best that each vintage produces, although they are already beginning to establish a core of "regulars".
Nikolai explains, "When choosing the wines at the very least they leap out at us during classification, but for most the potential is identified in the vineyard. We also don't add any sulphur to our red wines until about eight to ten months after harvest, instead we use biological control to avoid microbial spoilage. With our whites we limit the use of sulphur, only adding it once or twice in the wine's life. This encourages the interaction of a range of yeasts and adds complexity to the wines."
The Single Vineyard range has expanded to seven wines with their latest release. They include the best New Zealand Albarino that I have ever tasted (tasting). From the 2015 vintage in Hawke's Bay it surpasses their also excellent wine from the previous year (tasting). An Awatere Valley 2015 Sauvignon Blanc (tasting) adds strength to my view that this is an exceptional vintage. A funky 2014 Marlborough Chardonnay (tasting) is a rich and complex wine, while a 2014 Central Otago Pinot Noir from the Bannockburn region (tasting) uses 25% whole-bunch in the ferment to add structure and an extra layer of flavour.
Three impressive Hawke's Bay red wines from the Matheson vineyard complete the range. They are a formidable 2014 Syrah (tasting), a robust 2014 Merlot Malbec (tasting) and a dense, spicy Malbec from the 2013 vintage (tasting). The Albarino and Sauvignon Blanc have a recommended retail price of $35.99 while the rest are $57.99.