Kingsley's Show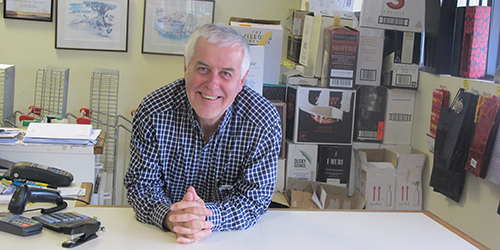 I've just finished chairing one of the friendliest wine shows in town – The NZ International Wine Show, more popularly known as "Kingsley's Show" after organiser and wine retailer, Kingsley Wood (pictured). It attracts the same core of around 30 judges every year. We look forward to catching up with old friends as much as we do tasting.
2100 wines were judged by six panels over three days. Around one-third of all entries were from off-shore – mostly Australia, but also around 100 Spanish and Italian wines plus an assortment of French, Portuguese and US labels.
I can't yet reveal the names of the winning wines although I can offer a few trends and medal tallies.
Chardonnay earned 26 golds – most from the 2013 and 2014 vintages. Sauvignon Blanc scored 20 golds out of 253 entries, all except one from the 2015 vintage, confirming my belief that it was a top year for the variety in Marlborough. Rosé surprised everyone by delivering six gold medals from 89 entries. It's a growth category in both quantity and quality. Pinot Gris, another growth category, managed nine golds from 161 entries, while Pinot Noir achieved an impressive 25 golds from 279 entries – nearly half of those from Central Otago. Syrah, with the help of a big Aussie contingent, did even better with 40 golds, including ten for NZ wines, from 289 entries.
A full list of results can be found on www.wineshow.co.nz after the awards dinner on 26th September.