Max Schubert photographic tribute released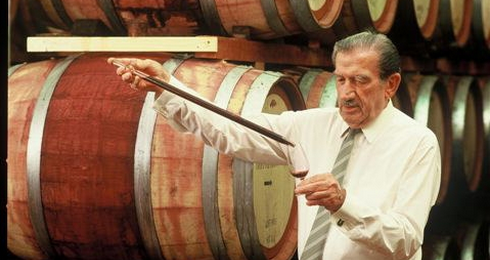 (Photo: Max Schubert)
Hot on the heels of Penfolds' recent release of the Max Schubert red wine (tasting), a photographic tribute has been released by Schubert's nephew, Adelaide photographer Richard Humphrys. Both have been produced to commemorate the centenary of the birth of Schubert, the former Penfolds chief winemaker and creator of Grange (tastings).
This beautiful collectors' item is a collage of photographs, some colour, some black-and-white, printed by the giclée process on high-quality paper. There are 22 pictures, mostly archival, some snapped by Humphrys himself.
Humphrys has contributed photographs to five consecutive editions of Penfolds' book The Rewards of Patience, although he is marketing the photo tribute by himself. It is available in five versions, ranging from $70 to $700, the dearer ones mounted in folders and the $700 one a triptych. I have seen the C3 Corporate Print (42cm x 29cm; $250) in the black folder, and it is very smart indeed. It is accompanied by an image caption sheet which tells the story behind each picture.
Full details: www.richardhumphrys.com.au